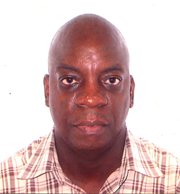 By BRENT STUBBS
Senior Sports Reporter
bstubbs@tribunemedia.net
THIS past week was quite an eventful one for sports in the Bahamas.
From the successful hosting of the inaugural Chris Brown Bahamas Invitational to the selection of Waltiea Rolle to the Women's National Basketball Association, there was more than enough news to get the sporting fanatic past the plight of Rodney Moncur and the shooting of the two policemen.
Chris "Fireman" Brown brought a host of athletes to town to compete in his invitational at the new Thomas A Robinson Track and Field Stadium on Saturday. The event showcased a number of international stars, including Grenada's Kirani James, Jamaican Veronica Campbell-Brown and Americans LaShawn Merritt, Justin Gatlin, Natasha Hastings, David Oliver and Darvis Patton.
The highlight, in my opinion, was the men's high jump, which was won by American Keith Moffatt. But in a showdown of the Bahamian quartet, rising young stars Ryan Ingraham and Jamal Wilson got past 2007 world champion Donald Thomas and 2011 bronze medallist Trevor Barry.
It certainly sets up an even more exciting rematch in June when the Bahamas Association of Athletic Associations stages its national championships to determine who will go on to represent the Bahamas at the Worlds in Moscow, Russia, in August. Could we see a changing of the guard then? The excitement continues to build.
It will also be interesting to see how Brown himself responds to the challenge that he will face against rivals Michael Mathieu and Ramon Miller, who were second and third respectively behind James in the men's 400 at the invitational. Defending champion Demetrius Pinder went down with an injury in the 200, but he is reportedly okay.
Brown, the elder statesman of the 'Golden Knights' quartet that upset the USA minus Merritt in the 4 x 400 relay in the Olympic Games in London, England, in August, said even though he has ventured into sports promotions, he's not retired yet. He intends to run through the 2016 Olympics in Rio de Janeiro, Brazil.
James has proven that he's still head and shoulders above everybody else, opening up his outdoor season with a world-leading 44.72 seconds, around the same time that he posted in his opener last year. He has proven that he will be a tough contender to deal with in Moscow.
As for Merritt, he proved that he's indeed back after winning the men's 200 in 20.34 over Gatlin's 20.44. The question that remains in the minds of everybody is whether or not he will be able to provide a challenge for James as he tries to regain his world title, or will one of the Bahamians step up and spoil the show.
The Worlds is just about four months away, but already the excitement is brewing based on what was displayed at the Invitational.
If everybody is healthy, it will also be interesting to see if the 'Golden Knights' can duplicate last year's Olympic feat in London by winning the gold again at the Worlds in Moscow.
And if the inaugural championship was any indication, Brown can rest assured that the fans certainly got their money's worth and I know that they will be looking forward to attending the second annual meet next year.
ROLLE DRAFTED
INTO WNBA
IT appears that one after the other, Bahamians are making their presence felt in every sphere of sports.
The latest to do so was Waltiea Rolle, who was selected with the 36th and the final pick in the third round of the WNBA by the Minnesota Lynx on Monday. It came just a week after Grand Bahamian Yolett McPhee-McCuin was introduced as the new head coach of the Jacksonville Dolphin women's basketball team.
Both were historic in that McPhee-McCuin became the first Bahamian named to coach a division one basketball team, male or female, while Rolle broke the barrier as the first to be drafted in the WNBA.
Rolle, however, has indicated that she intends to remain at the University of North Carolina to complete her degree in sports administration this summer, then head to Europe to play for about six months to get some exposure before she reports for duties in the WNBA during the 2014 season.
Not a bad move, considering that education is and should be a priority for all our Bahamian athletes who are afforded an athletic scholarship to these prestigious American colleges and universities. The six-foot, six-inch center indicated in her interview that at one point she wanted to pull out of the draft.
But she said she was guaranteed by Minnesota that once she's done with her education and playing overseas, they will have her spot available next year. Rolle has endured a lot to get where she is. When she was spotted as a student of CR Walker, she wasn't even playing basketball. During her junior season, she was red shirted after having a baby.
But Rolle had a remarkable comeback in her senior year as the 22-year-old closed out her sting at UNC by averaging 12.1 points, 6.6 rebounds and 2.5 blocks per game. But her coach Sylvia Hatchell said the best is yet to come for the talented professional prospect.
Hopefully, she we will get a chance to see her suit up in a Bahamas uniform for the women's national team that will be coached this summer by McPhee-McCuin when she takes a break from her recruitment process with Jacksonville. McCuin-McPhee said she relishes in the idea of having Rolle on the team as the Bahamas makes a bid for qualifying for the 2016 Olympics.
CONDOLENCES
THE Tribune wishes to join both the boxing and the track and field communities in offering our condolences to the families of the late Wilfred Coakley and Domingo 'Dingo' Duncan respectively.
The funeral service for Duncan is slated for 11am Saturday at the Church of God Auditorium, Joe Farrington Road.
Duncan, 36, was one of the country's top middle-distance runners. He was a member of the Striders Track Club, headed by Stephen Murray and was trained by Ashland Murray Jr. Duncan would not have represented the Bahamas on a national team, but he made his presence felt on the local scene.
He is survived by his wife, Vernet Duncan, daughter D'Ahjur, his parents Olga and George Duncan and a host of family and friends. May his soul rest in peace. He is expected to be funeralised 10am Saturday, April 27, at St Agnes Church.
Coakley was more a household name, having participated as an amateur boxer and executive before he served for many years as the chairman of the Bahamas Boxing Commission. He is survived by a number of family and friends, including his daughters, Senator Tanya Wright and her husband, Michael, a former soccer player and Donna Adderley and her husband Erin, a former national team softball player who is now managing the Dorin United Hitmen in the New Providence Softball Association.
Two more great sportsmen gone. May their souls rest in peace.