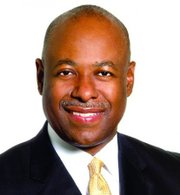 By NEIL HARTNELL
Tribune Business Editor
nhartnell@tribunemedia.net
Prime Minister Perry Christie has directed government officials to investigate the multi-million dollar redevelopment of Blackbeard's Cay into an all-inclusive cruise passenger destination, after downtown Nassau businesses expressed "grave concerns".
Obie Wilchcombe, minister of tourism, yesterday confirmed to Tribune Business that the Government would this week find out exactly what the project involved, amid the concerns of Bay Street retailers that it is designed as an "alternative" location for Carnival Cruise Lines' visitors.
While the Government is not jumping to conclusions, Mr Wilchcombe said it would not agree to a destination that "isolated all the visitors from one particular cruise line to one particular part of the island".
Although no Bay Street retailer would comment publicly, multiple sources privately told Tribune Business they feared the Blackbeard's Cay redevelopment would suck cruise passengers away from downtown Nassau, further eroding revenues and profits in an already-weak economic environment.
Such fears have been stoked by a March 13, 2013, Miami Herald article that disclosed Carnival's plans to "expand options for guests in Nassau".
The world's largest cruise line was said to have partnered with an entity called Carib Resorts, which would take passengers by boat from Prince George's Wharf to Balmoral Island (Blackbeard's Cay).
The Miami Herald quoted Carlos Torres de Navarra, Carnival's vice-president of port operations, as saying Balmoral would feature Bahamian history and serve as an alternative to both shopping (Bay Street) and Atlantis.
"Some passengers have done that again and again," he said.
Tribune Business revealed last year that the Bahamian operators of Blackbeard's Cay, located off Cable Beach opposite the Sandals Royal Bahamian Resort, had sold a majority interest in their business - including their existing lease - to Samir Andrawos, operator of St Maarten Sightseeing Tours on the southern Caribbean island of the same name.
This newspaper reported at the time that Mr Andrawos had extremely strong links to Carnival, and that his plan was to transform Blackbeard's Cay into a "first class destination" via an investment worth "millions" of dollars.
The deal required the approval of the Investments Board/National Economic Council (NEC), meaning the Cabinet, because of the foreign ownership involvement in a sector supposedly reserved for 100 per cent Bahamian ownership.
Tribune Business was told this weekend that Blackbeard's Cay's redevelopment involved creating the equivalent of an alternative Atlantis Marina Village, with a host of retail, restaurant and tour/excursion activities on offer - all designed to keep Carnival's passengers there for the duration of their visit.
"We'd be concerned if that was the case," Mr Wilchcombe told Tribune Business last night. "We're not sure of the details because it was agreed before our term. We're looking to find out all the details."
The Andrawos/Blackbeard's Cay project was approved during the final months of the former Ingraham administration, and Mr Wilchcombe said the Government hoped to meet with the developers shortly.
"I know the Prime Minister has requested to his special assistant to cause for a meeting to be held to understand what is going on," the Minister of Tourism said.
"It's still in the process of development. I'm not sure everything is completed yet. We've had one or two people stop and ask questions about it, and the Prime Minister has directed our attention to it."
Mr Wilchcombe said the Ministry of Tourism was working with the cruise lines to generate additional business for Bahamian merchants and vendors, and had met with Carnival just two weeks ago on efforts to improve the Prince George's Dock and Welcome Centre experience.
With 26,000 passengers and five cruise ships in port in Nassau yesterday, Mr Wilchcombe acknowledged that the Bahamas needed to deliver "more activities, more tours" to get increased numbers of passengers off the ships and spending money with a broader range of local businesses.
"There are some tours, we need to do more, and we need to make sure we deliver a quality product," the Minister said.
He added that the Blackbeard's Cay project would be fine as just a tour/excursion, or something similar to a Blue Lagoon trip, but not if it was "absolutely isolating visitors to a particular part of the island".
"We'll be pressing to make sure we get more business to the capital, get more business to Bay Street," Mr Wilchcombe told Tribune Business.
Other sources, aware of the Bay Street position, said:
"There have been grave concerns expressed to us by different business owners in the downtown area about the scale of that [Blackbeard's Cay] development, and the potential impact it's going to have on the downtown area."
The Government is understood to be arranging a site visit to Blackbeard's cay to gain a better understanding of the scope of works.
Tribune Business understands that it wants to avoid "making the mistakes of the previous administration, with its 'stop, review and cancel policy'", due to the potential negative impact this might have on the Bahamas' attractiveness for foreign direct investment (FDI).
Ed Fields, managing director of the Downtown Nassau Partnership, said in response to Tribune Business's inquiries: "Other than the recent article in the Miami Herald and a few rumours, the Downtown Nassau Partnership is unaware of the scope of the developments at Blackbeard Cay.
"I also have it from good authority that government is not fully apprised either, but are actively engaged in getting a clearer picture about the development.
"We are looking forward to becoming fully apprised of the development's plans so that we might understand its possible impact on downtown Nassau and our tourism product in general."