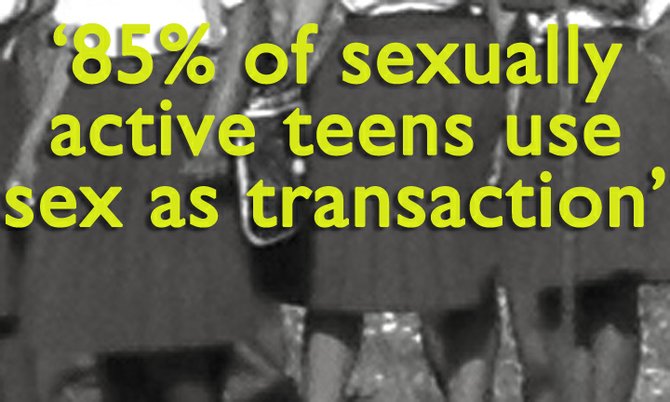 By RUPERT MISSICK
A NEW non-governmental organisation has discovered that around 85 per cent of sexually active teens in the Bahamas are engaging in some kind of transactional sex.
Officials at the Bahamas Urban Youth Development Centre have also found that whatever the conventional wisdom on the matter, the majority of middle and high schoolers in the Bahamas are not sexually active. But of those who are, the majority are involved in risky behaviour.
"Say if we have a group of 30 students 25-30 per cent are sexually active and of those, 85 per cent are involved in some type of transactional sex,"  president and CEO at Bahamas Urban Youth Development Centre Prodesta Moore told The Tribune yesterday.
Transactional sex relationships are created when gifts, money or services are given in exchange for sex. It differs from prostitution in the sense that only a portion of the needs of the person providing the sex are met through the practice.
Ms Moore said that young Bahamian women can often create for themselves a network of "regulars" – several men who they can count on to fulfil a number of their needs, ranging anywhere from school supplies, exam fees or lunch money.
"Many young people put themselves through high school and college in this way. They see it as a means of taking care of themselves, that's the culture. They feel that if a man wants to deal with them he has to pay in some way and they are not prostituting themselves by doing this," Ms Moore said.
But the familiarity between the young women and the persons they sleep with creates a worrying situation which places teens in the Bahamas as one of the groups most at risk for contracting HIV/AIDS.
Ms Moore said that very often, sex between these teens and their regulars, no matter how many there may be, will be unprotected as the girls mistake acquaintanceship for safety.
Prodesta Moore's Bahamas Urban Youth Development Centre began operations in 2010 to address what she described as a service gap with regard to sex education for sexually active teens.
With programmes that focus on in-school and out-of-school pregnancy, HIV/AIDS prevention and abstinence, the centre's representatives travel to middle and high schools teaching preventive methods as a way to reduce the transmission of HIV/AIDS in the Bahamas.
"I began the organization when I returned home after living abroad for some time. Having children of my own I realized that this gap needed to be filled," Ms Moore said.
In working with these young people, the organization discovered that many of the teens had siblings or parents also involved in transactional sex or fully involved in the sex trade. This led to the development of a programme to support the testing and education of persons involved in sex work in The Bahamas.
Along with men who have sex with men (MSM) and teens, sex workers are among the most at risk for becoming new carriers of HIV/AIDS.
Thus far, data collected on commercial sex work in the Bahamas is very sparse. However, this may change. Ms Moore said that last year, through a partnership with C-Change, the centre conducted a survey that identified 450 sex workers in Nassau and Grand Bahama.
Ms Moore hopes that  the results of the study – which are currently being vetted by the  Ministry of Health –  will assist in helping sex workers receive the best available access to education, HIV testing and prevention materials.
"We met these women in strip clubs, motels, bars and in some of the hotels. We hope to reach at least 180 sex workers over three years, providing HIV training and advice," she said.
Currently the organization addresses the needs of between 15 and 20 sex workers and is seeking funding to branch further out into the community.  
Overall, the Bahamas has made great strides in reducing the number of new HIV infections by 50 per cent in due in no small part to the efforts of the government and organizations such as Bahamas Urban Youth Development Centre.
Between 2001 and 2010, the number of newly reported HIV and AIDS cases in the Bahamas decreased by 39 per cent from 553 cases to 337 cases.