By SANCHESKA BROWN
Tribune Staff Reporter
sbrown@tribunemedia.net
MINISTER of the Environment Kendred Dorsett yesterday said the government has no intention on relocating the city dump – despite the fire hazard it has become over the past decade.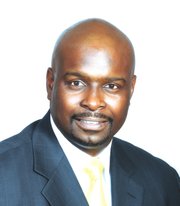 Speaking to The Tribune, Mr Dorsett admitted the dump is a vexing issue but he said the government plans to address it in the next budgetary cycle.
"We are not moving it. It is not in our plan. It is an ongoing issue and we have had these problems with the landfill for decades. I am hoping in this budgetary cycle we will be able to effectively put in the financial resources and the team to address this vexing issue once and for all," he said.
"With that said, the landfill remediation is going to be top of my agenda going into this budgetary cycle and I will speak to that very clearly to the Bahamian people in this upcoming budget.
"I don't think that the landfill is going to be relocated but in previous communications, you've heard me talk about the transformation of the landfill into a green park. So we're going to talk about a proper recycling materials facility, landfill remediation, and the possibility of 'waste to energy' being a by-product of what we do there."
Yesterday, firefighters were still struggling to get a handle on a fire at the city dump, which has been smouldering since Friday.
Fire Chief Walter Evans said the challenge is that the flames are being fuelled beneath the surface by a variety of highly flammable materials, including propane tanks, cardboard and cloth.
"Because of the depth of the fire," he said, "heavy duty machines are needed to get below the surface, at least three to four or more feet.
"Had we been dealing with a surface fire, we would have already extinguished it and there would be no worries, but this thing is burning beneath."
Early last year, fire officials were faced with the same challenge at the dump and urged residents to seek medical assistance as soon as possible if they experienced breathing problems, headaches, vomiting, nausea or unusual fatigue.