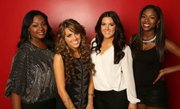 By LESH

Tribune Features Reporter
acadet@tribunemedia.net
ANOTHER week flew by with the judges refusing to use their one save card, which led to contestant Janelle Arthur's elimination.
The country singer sang for her survival on the American Idol stage and then for the final time before saying her goodbyes.
The remaining contestants include Candice Glover, Kree Harrison, Angela Miller and Amber Holcomb.
The four girls survived another heart racing elimination week and they are all one step closer to the season 12 title, in just a few weeks.
One viewer told In Ya Ear: "Janelle was good but face it and be real, Candice, Kree, Angie and Amber are better, and in that order. She was not up to par with these girls and now the competition is getting even more difficult to judge. But if I had to take a wild guess, I would say that Amber may be getting voted off the show this week."
Another viewer said: "My guess is the top three will be Kree, Candice and Angela. Either that or some crazy shenanigans is going to happen with the judges this week, because you never really know with them."
This week, the contestants will take on two songs each, to perform for America and judges Mariah Carey, Nicki Minaj, Keith Urban and Randy Jackson.
Highlights of last week's show include a guest appearance from former American Idol judge Paula Abdul and an awesome performance by season 3 American Idol winner Fantasia Barrino. Wearing a floor length white gown and rocking a short cut hairstyle, the diva performed her new song "Lose To Win." Fans of Fantasia are saying she took the judges "to church" with her performance, as Nicki and Keith was seen rocking to Fantasia's soulful beat.
At one point the singer became visibly moved by her very own song. After the show, she spoke with international reporters telling them it is always good to go back to the Idol stage. She said she is usually very nervous.
Fantasia said: "Tonight before I started the song, I dedicated it to the Hill family. That is my drummer, and they lost their father today. They have been with me for five years so he is like my father as well. He used to love to hear me sing and I'm sure if he was here today, he would have watched Idol tonight. So I wanted to dedicate it to the Hill family, to the people in Boston, Texas and everybody that is going through something right now. Just to let them know that it hurts when you lose, but it will get better."
A few of Fantasia's Bahamian fans also shared their views on her performance.
Felicia Sands said: I really enjoyed last week's episode because they brought back memories for me with the top three years ago: Fantasia, Jennifer Hudson and Latoya London. Calling them the three divas. But Fantasia's performance was the highlight of the show. I felt like she made her comeback after everything she has gone through over the past couple years."
Aaliyah Johnson said: It was difficult for me to not be teary eyed after watching Fanny's performance. After the show, I watched it on youtube a few times also. The song has been a favourite of mine for a few weeks now but watching her perform it brought me closer as a fan. She has been through it in the media's eye and that song is saying, yes I've been through it, but that is not stopping me. I respect her for her strength. The song is almost like a testimony."