By BRENT STUBBS
Senior Sports Reporter
bstubbs@tribunemedia.net
HIGH jumpers Donald Thomas and Trevor Barry may not have been at their best when they came home and competed in the recent Chris Brown Bahamas Invitational. However, they got back on track at the Drake Relays over the weekend.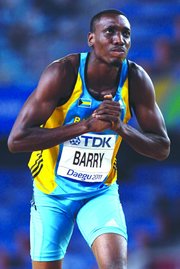 The duo went head-to-head in a showdown with American Keith Moffitt, the champion of the CBBI, in the meet dubbed: "America's Athletic Classic" at the Drake University in Des Moines, Iowa.
The meet also featured a number of Bahamian athletes competing for their respective collegiate teams.
As they improved on their 2.20 metres or 7-feet, 2 1/2-inch performance in Nassau behind Moffitt, Ryan Ingraham and Jamal Wilson (all at 2.28m or 7-5 3/4), Thomas and Barry had to settle for the same height of 2.25m or 7-4 1/2. Thomas was awarded second over Barry's third on the countback.
"I'm progressing. It's getting to that time of the season where I have to pick it up. It was a little early when I competed in Nassau, so I have to keep pressing and improving," Thomas said. "The competition was good. The weather wasn't too bad. It was a little chilly. I just went out there to compete. I was feeling good. Hopefully I can continue to improve from here on in."
Thomas, the 1999 world champion, is now preparing to travel to Doha next week for a Diamond League meet before he competes in China as he continues the tune-up for the IAAF World Championships in Athletics in Moscow, Russia, in August.
Barry, the 2011 World Championship bronze medallist, was unavailable for comments.
The Bahamian duo lost out to American Dusty Jonas, who won with 2.31m or 7-7. Moffitt, the winner of the CBBI title at 2.28m, had to settle for fourth place with 2.21m or 7-3.
Also at the meet, Te'Shon Adderley ran the third leg on the University of Minnesota's distance medley team that won the event in a school record time of 11 minutes and 6.47 seconds.
Latario Collie-Minns, a freshman at Iowa Western, took second place in the men's triple jump with a leap of 16.12 metres or 52-feet, 10 3/4-inches. The winning jump was 16.19m or 53-1 1/2 by Texas El-Paso's junior Mark Jackson.
Kenya Culmer, competing for Southern Illinois, was fourth in the women's high jump with a best leap of 1.76 metres or 5-feet, 9 1/4-inches. The winning height was 1.79m or 5-10 1/2 by Georgia's junior Saniel Atkinson.
Douglas Palacious, a junior at Southern Illinois, was 22nd overall in the men's long jump with a leap of 6.86m or 22-6 1/4. Nebraska's senior Janis Leitis won with 7.86m or 25-9 1/2.
Back on the track, Michelle Cumberbatch, a senior at Lincoln (Mo), finished third in the women's 400 hurdles in 58.08. Iowa State's senior Eseroghene Okoro won in 57.43. Alexis Franklin, a freshmen from Ohio State, was second in 57.86.
Cumberbatch also ran on the second leg of the women's 4 x 400 relay team that won in 3:34.52.
The freshman combo of Rashan Brown and Shaunae Miller ran the second and third legs as the University of Georgia placed third in the women's 4 x 100 relay in 44.64. The winning time was 44.28 by Illinois.