By BRENT STUBBS
Senior Sports Reporter
bstubbs@tribunemedia.net
IN preparation for the CONCACAF beach soccer qualifier for the 2013 FIFA World Cup, the Bahamas Football Association has selected a 10-member team that is scheduled to leave town on Wednesday to compete in the BSWW Riviera Maya Cup 2013 May 8-12 in Cancun, Mexico.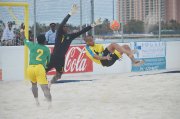 The team includes goalkeepers Christopher Davis, Valin Bodie and Torin Ferguson, defenders Kyle Williams, Dwayne Forbes, Mark Daniels, Alex Thompson and Kamal De Gregory and forwards Jason Edwards, Gary Joseph, Ehren Hanna, Lesley St Fleur, Nesley Jean and captain Gavin Christie.
The head of the delegation is Dominique Bannister. The team manager is Lashane Dean and head coach is Roberto Ceciliano, assisted by Julian Smith with physiotherapist Wilson Bain.
"It's a select team that is going. It's not the full squad. We selected some players to go and play against Mexico, Spain and Brazil," said Christie, the team captain. "So for us, it's basically a tune-up tournament for us to get ready for the World Cup qualifier."
Following the opening ceremonies on Friday at the Playa del Carmen Stadium, the Bahamas is slated to play against Mexico in the first match. On Saturday, the Bahamas is scheduled to play against Brazil and they are expected to round out the competition against Spain on Sunday. The team is set to return home Monday in time to get ready for the CONCACAF qualifier.
"We're looking for a win against all of the teams. We're playing to beat all of the teams and come up with the best results," Christie said. "For us, I think it's going to be very tactful for our coach, who is going to try a number of things and different plays he would want us to use in the CONCACAF qualifier. It's just a warm-up for us, even though we're going to be playing against two of the best teams in the world."
Christie said they have gone though an intense training session for the past several months and now it's just trying to put what they learn into practice.
On their return from Mexico, Christie said they will only have time to put the finishing touches on the 12-member team that has already been selected to compete in the CONCACAF qualifier at the beach soccer facility at the foot of the Sir Sidney Poitier Bridge.
The CONCACAF qualifiying tournament is slated to get started with the opening game noon Wednesday, May 8, with Canada taking on Trinidad & Tobago. At 1:15pm, the US is scheduled to face Guatemala and, at 2:30pm, El Salvador vs Jamaica. Then at 3:45pm, the Bahamas will host Puerto Rico. The feature game at 5pm will be between Guyana and Mexico.
The remainder of the schedule is as follows:
Thursday, May 9
Noon - United States vs
Puerto Rico
1:15pm - Canada vs Guyana
2:30pm - Costa Rica vs Jamaica
3:45pm - Bahamas vs Guatemala
5pm - Mexico vs
Trinidad & Tobago
Friday, May 10
10:45am - El Salvador vs
Costa Rica
Noon - Trinidad & Tobago vs
Guyana
1:15pm - Guatemala vs
Puerto Rico
2:30pm - Mexico vs Canada
3:45pm - Bahamas vs
United States
5pm - 2nd Group C vs
3rd Group C
Saturday, May 11                     
Noon (F) - Playoff 10th vs
11th place (loser - 11th place)
1:15pm (E) - Playoff 8th vs
9th place (loser - 10th place)
2:30pm (D) - Playoff 6th vs
7th place (loser - 9th place)
3:45pm - Semifinal 1
5pm - Semifinal 2
Sunday, May 12                         
1:15pm - Playoff winner E vs
winner F place (7th & 8th place)
2:30pm - Playoff 5th (bye team) vs winner D (5th & 6th  place)
3:45pm - Playoff for the 3rd place
5pm - Final