By RENALDO DORSETT
Sports Reporter
rdorsett@tribunemedia.net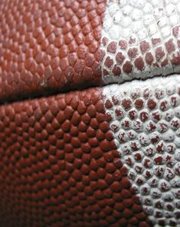 ABOUT three years. That's how long it should take for us to determine whether this NFL draft was a success or a failure for most teams. As a matter of fact, I've always thought that there should be the general disclaimer on every draft "NOT TO BE GRADED FOR THREE YEARS." In the NFL, under the new collective bargaining agreement, rookie contracts all look very similar with four-year deals and the franchise able to exercise a fifth-year option for the player's rights. The initial term of an NBA rookie contract is two years, however, teams may exercise an option to re-sign a rookie for a third season.  Simply put...at three years we're certain how we feel about a draft pick, bust or stud. To judge them any sooner would be a waste of time. To that end, did I write an entire column defending the Dolphins selecting Dion Jordan at No.3 Thursday night? Absolutely. But we don't get to judge how important his impact will be to the Dolphin fanbase (and Bahamians in particular), for another three years. You can make good, well-informed decisions, but you only know your car after 100K miles. For all we know, the 2013 NFL Draft may join this list someday...
The Most Important Drafts in Bahamian History
1978 NBA Draft - Round 1, Pick 1 by the Portland Trailblazers
Mychal Thompson
Career Highlights: Two-time NBA Champion, NBA All-Rookie First Team, NCAA All-American
When a local product goes as the top overall pick in any draft, it simply doesn't get any bigger. Pegged for greatness since his playing days in Nassau, to the unbeaten 1974 Florida championship team known as ''The Jackson Five,'' to Portland, to Los Angeles, to the broadcast booth, Thompson excelled at every level. His impact on the Bahamian game was unmatched for the first nine years of his career, but when he was traded to the Lakers in 1987 and became a part of the Showtime era for consecutive titles, he set off an unbreakable chain reaction to make the Lakers the Bahamas' team, an unfortunate byproduct that remains today.
Antoan Richardson
2005 MLB Draft - Round 35, pick 1,062 by the San Fransicso Giants
Currently: New Britain Rock Cats of the Minnesota Twins organisation, AA (Eastern League)
The Andre Rodgers, Ed Armbrister, Wenty Ford, Tony Curry, Wilfred Culmer era in the 1950s-70s created the emergence of baseball as the most popular sport in the Bahamas because of their success at the international level. They thrived in the days where you could walk-on, tryout for a franchise and make it into the farm system. Richardson bridged the gap between generations and ended a near 30-year Major League drought for Bahamian players. Richardson laboured in the Minor Leagues for six years before he was finally called up and made his MLB debut. On September 4, 2011, Richardson debuted for the Atlanta Braves and recorded his first career hit, a single to right field off of Los Angeles Dodgers pitcher Clayton Kershaw in his first career Major League at-bat. In the offseason, Richardson is still down at the Freedom Farm field coaching and inviting scouts to the Bahamas to keep an eye on young talent.
2010 NFL Draft - Round 6, Pick 207 by the Tennessee Titans
Myron Rolle
Career Highlights: Rhodes Scholar, First team Freshman All-ACC, Third Team All-American, Kappa Alpha Psi member
Currently: Awaiting announcement of his Med School decision
We live in an era where writers speak in absolutes far too often, but I feel confident in saying we may never see another player like Myron Rolle ever again. His on-the-field exploits have been talked about ad-nauseam, but to balance excellence on the field with excellence in academia like Rolle did over the past few years comes along once in a generation. Rolle garnered international attention when his Rhodes Scholar interview became a scheduling conflict with an FSU Maryland game. He took the interview, was granted the scholarship,  he would first study at Oxford University for the 2009–10 academic year in order to earn an M.Sc. in medical anthropology and would then enter the 2010 NFL Draft. Despite harsh words from critics who questioned his dedication to the game, Rolle was drafted and eventually also spent time with the Steeler organisation.  Always quick to pay homage to his Bahamian heritage, Rolle said he plans to open The Myron L Rolle Medical Clinic and Sports Complex - a free health services clinic in Steventon, Exuma. This offseason, Rolle announced that he would walk away from the NFL at 26 to pursue a career in medicine full time. When parents give student athletes everywhere the "something to fall back on speech"...med school is paramount example of that idea.
1991 NBA Draft - Round 1, Pick 24 by the Boston Celtics
Rick Fox
Career Highlights: Three Time NBA Champion, NBA All-Rookie Second Team, dating Eliza Dushku
Part two of the reason Bahamians will love the Lakers forever and a day. The fact that he still references playing for Kingsway is enough for me, but before your girlfriend makes you watch another episode of "The Game" or you watch Fox as a talking head on NBA TV, his successful career on the court can't get lost in the shuffle. Fox was the glue on the court that held the early 2000s Laker dynasty together as its best role player (let's not forget the near triple double in game 7 of the 2001 WCF on the road against Sacramento). It also gave us the first opportunity to see a Bahamian flag draped across someone's back in an NBA championship celebration. Also major props for constantly tweeting about Bahamian sports and even appearing at this year's Hugh Campbell. That's not a typo by the way, dating Eliza Dushku is definitely a career highlight and do we even have to mention the Doug Christie tunnel fight...
2010 NBA Draft - Round 2, Pick 51 by the Oklahoma City Thunder
Magnum Rolle
Currenty: Mitsubishi Diamond Dolphins (Japan)
He's the first Bahamian NBA draft pick in the social network era. With Facebook, Twitter, and enough blogs to satisfy the 24-hour news cycle, we followed every move in Rolle's career and particularly, his summer league and preseason chronicles following the draft. He was also the first Bahamian to play in this era of the overhyped media saturated "Final Four" when his LSU team reached the National Championship game against LSU. Perhaps more importantly, he dominated in Hugh Campbell with St George's and was a direct defense to the "you have to leave Nassau early to succeed at basketball theory." He also gave my my first "I played against that guy" moment while watching that National Championship game against UCLA, huge topic of conversation in my dorm room at the time.
2013 WNBA Draft - Round 3, Pick 36
Waltiea Rolle
Currently: Minnesota Lynx
Rolle made a meteoric leap for women's basketball in the Bahamas when she became the first Bahamian woman drafted into the WNBA just weeks ago. Whether it impacts the product we see on the floor from the school level to night league remains to be seen, but just knowing you can go from Albury Sayles to CR Walker to North Carolina and the WNBA should be a huge jumpstart for the local game.
2004 NFL Draft -  Round 3, Pick 82 by the Baltimore Ravens
Devard Darling
Darling's story has everything you would want in a Hollywood script. When Devard and his twin brother Devaughn relocated to the United States, they became stars at the high school level and were expected to do big things for Bobby Bowden at Florida State. Unfortunately, Devaughn died following complications after a 2001 practice session and Devard transferred to Washington State. After two years sidelined due to injuries and battling his way up the depth chart, Darling finally had a breakout game with the Ravens in November 2007 when he caught four passes for 107 yards and a touchdown. Injuries would again hamper his opportunities with the Kansas City Chiefs and Houston Texans...but we're still waiting on a happy ending.
1996 NBA Draft - Round 1, Pick 13 by the Charlotte Hornets
Kobe Bryant
What if the Hornets axed the trade and kept the pick? What if their scouting department actually did their job on Kobe Bryant like the Lakers did? What would the NBA landscape look like today? More importantly, what if we didn't have to deal with the last 17 years of Laker fans? I'll never forgive you Charlotte.
1990-92 NFL Draft - all picks by the Dallas Cowboys
Emmit Smith, Darren Woodson, Alvin Harper, Russell Maryland
Nearly every Cowboy fan you know right now is a Cowboy fan because of the fallout from "The Great Train Robbery," also known as the Herschel Walker trade.
Dallas ended up with a total of six of Minnesota's picks over the succeeding years, two first round and one second round pick, which they used to draft Emmitt Smith and Darren Woodson. With the many other picks in their possession, the Cowboys traded for the first overall draft pick in 1991, Russell Maryland. Add that talent to Troy Aikman and Michael Irvin, and that my friends is how you build a dynasty in two years.
1985 NFL Draft - Round 1, Pick 16 by the San Francisco 49ers
Jerry Rice
The greatest of all time. Three Super Bowls, one Super Bowl MVP, two NFL Offensive Player of the Year awards, 13 Pro Bowls, 12 All-Pros, All-Time leader in receptions, yards, touchdowns and almost every receiving record conceivable. You liked the 49ers because of Joe, you became a lifelong fan because of Jerry.
2004 NFL Draft -  Round 1, Pick 11 by the Pittsburgh Steelers
Ben Roethlisberger
The search for a franchise quarterback ended for the Steeler Nation when they landed Big Ben. It didn't take long for him to produce two SuperBowls and become arguably the best quarterback in a class that also included Eli Manning and Philip Rivers.
2008 NFL Draft - Round 1, Pick 1 by the Miami Dolphins
Jake Long/Matt Ryan Decision
Offensive linemen don't throw touchdowns and Jake Long now plays in St Louis. The Falcons.There was nothing I liked about this choice then, and there's nothing I like about it now.
2012 NFL Draft - Round 1, Pick 1 (should have been by the Miami Dolphins)
Not one, but two opportunities to draft a franchise ressurecting quarterback...and the Dolphins decide to fail at losing. Gone was the perfect timing for an 0-16 season and gone was the opportunity to draft Andrew Luck or RGIII. Ryan Tannehill has to make the Hall of Fame and win a SuperBowl for Bahamian Dolphin fans to get over this...there's no middle ground.
1983 NFL Draft - Round 1, Pick 13 by the Miami Dolphins
Dan Marino
There's no way a Dolphin fan writes this column without including this draft. It gave birth to us all.