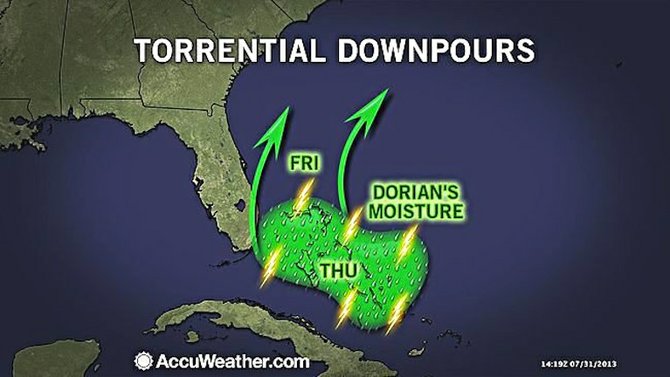 FORMER Tropical Storm Dorian will continue to track across the Bahamas through Friday, in a southeast to northwest fashion, accompanied by numerous showers and thunderstorms.
Some of the downpours could lead to localised flash flooding in poor drainage and low-lying areas over the next few days, says Kristina Pydynowski, Senior Meteorologist at AccuWeather.com.
Despite the downpour threat meteorologists are no longer concerned that Dorian will restrengthen into a tropical depression or storm as it travels through the Bahamas.
Later Friday and through this weekend, Dorian will get steered off to the northeast and away from the rest of the Southeast US.
In the wake of Dorian, the rest of the Atlantic Basin looks to remain free of another tropical depression or storm through at least this weekend.
Yesterday the Bahamas Department of Meteorology issued several severe thunderstorm warnings throughout the day for Andros, New Providence, Cat Island, North Abaco, Grand Bahama and Exuma along with their adjacent waters and cays.
Satellite and doppler radar imagery continued to depict large clusters of showers and thunderstorms spreading across the islands.
It warned: "Some of these thunderstorms will be strong to severe at times, causing strong gusty winds, dangerous lightning, heavy downpours with flooding in low lying or flood prone areas, possible hail, and waterspout or tornadic activity."