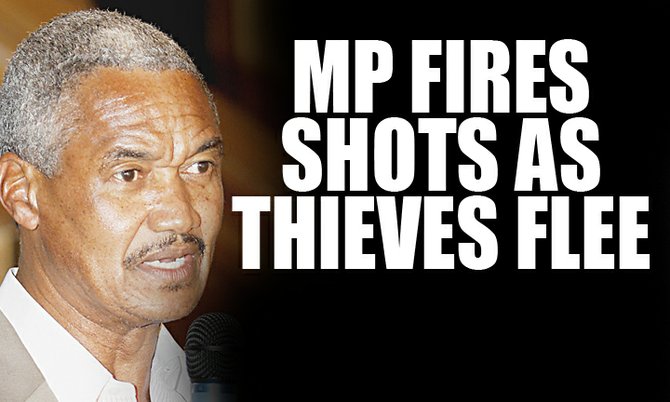 By DANA SMITH
Tribune Staff Reporter
dsmith@tribunemedia.net
A PLP MP fired shots in the direction of what he believed to be two fleeing copper thieves after an estimated half a million dollars worth of "utter destruction" was caused to a Robin Hood store.
Tall Pines MP Leslie Miller took action after he and police officers found two men on Robin Hood property yesterday morning. He suspected them to have been the copper thieves.
"We went out there and these two guys are out there," he said. "When we opened the door, they ran out and we ran behind them. We ran after them for about 200 or 300 yards. I didn't have my shotgun in my hand – but by the time I started shooting they were already through the bush."
He said the latest raid in a string of copper-thefts at the Tonique Williams-Darling Highway store has forced the permanent closure of that location.
The store has been robbed of copper twice before in the past, but this time, Mr Miller said, thieves removed every single piece of copper from several areas in the store. He said he believes it might have happened over the last two or three days.
He said: "They have gone way beyond what they did the first and second time. This time they have stripped everything. You have to see it to believe it. The police say they have never seen it this bad anywhere else. Total destruction."
The suspected thieves left behind cutting tools, Mr Miller said, explaining the country's long-standing, copper-theft problem is affecting "all the business places in this country."
"This is a menace to this society," he said. "I also blame the exporters. They are the ones who are aiding and abetting these criminals. They are as bad as the ones who thief the copper. They know that the Bahamas does not produce copper.
"They know that the copper they buy from these guys is stolen copper. They know that. There's no question about that. They just as bad as the robbers because they know it's stolen goods, they know it's destroying businesses."
Mr Miller is calling for ban on copper exports, not just because of the thefts he suffered, but for all the businesses in the country who have struggled as a result of copper theft.
"I appeal to Minister Halkitis. You promised us faithfully during the budget debate that you all were going to ban copper. Dr Bernard Nottage, the Minister for National Security, has urged the banning of an export," he said.
"They must look at the bigger picture. And the bigger picture is you must look out for the welfare of the majority and not the few. I'm begging the government, this time; I'm demanding they put a stop to it... Please stop the exportation of copper. Close them down. Ban it. We're not asking you to ban scrap metal, we're simple asking you to ban one item – copper."
Mr Miller added: "It brought me almost to tears when I went out there and saw the destruction. You have to see it to believe it. Utter destruction. At least a half a million dollars has to be spent to replace those products. And you know what bothers me, all the stuff they stole – they wouldn't get $1,000 from the junk-yard people. Not even $1,000."
Mr Miller confirmed this highway location of the grocery store will not be reopened: "Robin Hood won't be open any more. It's useless even thinking about it. In fact, I wouldn't advise any businessmen in this country to go into any sort of business with copper, until and unless the government steps to the plate and bans the export of copper."