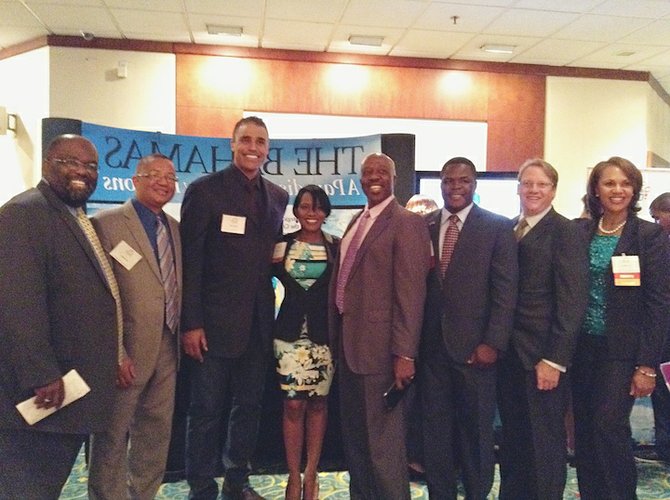 THE Grand Bahama Port Authority, Limited (GBPA) and Grand Bahama Development Company (DEVCO) joined in another collaborative promotional effort with key government officials at the 17th annual National Association of Black Hotel Owners Operators and Developers (NABHOOD).
Held in Miami, NABHOOD seeks to highlight investment opportunities and to increase the number of African-Americans developing, managing, operating and owning hotels.
GBPA and DEVCO exhibited at the event where Prime Minister, Perry Christie was a featured speaker.

"As part of our new marketing thrust, we've made decisive efforts to collaborate with government and other private sector groups in promoting Grand Bahama Island and its investment opportunities therein," stated GBPA President, Ian Rolle.

"Through such partnerships, we are thereby able to participate in a greater number of offshore conferences and tradeshows, and also present a unified message of the various opportunities and necessary procedures for doing business within our unique jurisdiction."
Earlier this year, GBPA and DEVCO executives accompanied a six-member team of officials from The Bahamas Investment Authority to the American Lodging & Investment Summit (ALIS) held in Los Angeles, California.

A similar joint delegation also participated in this year's Caribbean Hotel & Resort Investment Summit (CHRIS) that followed in Miami in May. According to President Rolle, their efforts have attracted interest.

"In LA, we were able to meet with key individuals in the hotel and entertainment industries and have hosted several groups on site visits to Grand Bahama since then," he said.

Additionally, last week's NABHOOD conference, along with CHRIS, provided opportunities to interact with hundreds of hotel investors, top hospitality industry professionals and delegates from throughout North America and the Caribbean.
Rolle said GBPA and DEVCO were fully committed to targeting investors who are considering the Caribbean and in particular, the Bahamas, as the place to do business.

"All concerned have been proactive in our efforts to do so, and we wholeheartedly will continue," he said.