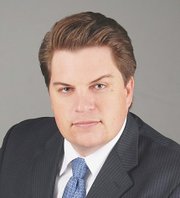 By NEIL HARTNELL
Tribune Business Editor
nhartnell@tribunemedia.net
The Government must approach real estate policy reforms "sensitively", a well-known attorney warning that proposed changes could cost the Bahamas "a percentage" of its second home market.
Adrian White, head of the Bahamas Bar Association's real estate committee, told Tribune Business that raising the $500,000 investment threshold for economic permanent residency would alter market dynamics affecting both price and demand.
The Delaney Partners attorney, speaking in the aftermath of recent meetings between the Government and Bahamas Real Estate Association (BREA), said the Christie administration's desire to act in the best interests of its citizens should not be demeaned.
And he backed "periodic reviews" of Bahamian real estate legislation and policy, provided they were transparent and involved full consultation with all industry stakeholders.
"It has to be dealt with sensitively," Mr White told Tribune Business of real estate policy reform. "Positions should not be reached without full and proper consideration of all interested parties.
"It's definitely something that needs to be reviewed periodically, and so long as that's done sensitively with proper consideration and opportunities for industry partners, for the public and any consultants to weigh in before fundamental decisions are made, that will be perceived to be the right outcome."
Among the proposed policy issues being considered by the Government, apart from increasing the economic permanent residency threshold, is whether penalties should be imposed on foreign buyers who fail to develop their vacant land within a specified time period.
When it came to the latter issue, Mr White said such conditions had been imposed before. "What happened in the past is there would be a type of charge or added cost lumped on to the buyer," he explained. "That's not something new. There's existing powers under the International Persons Landholding Act."
This charge was ultimately realised whenever the subject property was sold, Mr White saying that in the past there was a structure, or formula, to calculate what should be paid.
The Delaney Partners attorney agreed that the Government needed to find "the proper balance" between the industry and market needs on one side, and ensuring land prices remained within reach of Bahamians on the other.
And it also needed to keep in mind the sizeable employment, tax revenue and gross domestic product (GDP) contributions made by the real estate sector.
"I think such an initiative has the interests of the citizenry of the Commonwealth in mind," Mr White said of the Christie administration's recent policy thrust. "That proposition should not be looked at in a negative light.
"There is a very popular quote that God is not creating the land, but in the Bahamas people are always buying and selling the land. That is the thinking, but in that process the market value must not be put out of the reach of the Bahamian citizenry or Bahamians that build."
When it came to increasing the economic permanent residency threshold from the current $500,000 level, Mr White said it would push foreign buyers seeking this status to look for higher-valued properties.
"That has the effect of properties in different communities increasing in value," he told Tribune Business. "That's not negative for the market, but might be negative for the Bahamas.
"If the Government's of the view that they want to increase the investment threshold, they'd have to have their own reasons at this point."
Mr White said that as long as there was nothing "undesirable" in the applicant's background or motives, economic permanent residency was a status that applied more to Immigration - enabling them to "come and go as they please".
But if applicants were seeking tax or lifestyle benefits from taking up economic permanent residence in the Bahamas, any increase in the threshold might make this jurisdiction less competitive in their eyes compared to rival nations.
If that happened, Mr White warned that real estate sales might slow down, and the Bahamas might lose a proportion of its vital second home market.
"If you make it a condition, for instance, that the economic permanent residency amount is increased from $500,000 to $1 million or $1.5 million, then the market might see a slight decline in purchases by non-Bahamians," he told Tribune Business.
"People see it as an incentive to invest in the Bahamas, buy land, so they may qualify for permanent residency. If the threshold is put up to a level that is not affordable to the second home market, that's going to be a percentage of second home buyers that may view our investment attraction to be not as competitive as other jurisdictions."