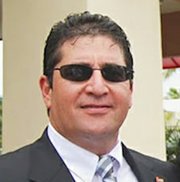 By NATARIO McKENZIE
Tribune Business Reporter
nmckenzie@tribunemedia.net
MARCO'S Pizza (Bahamas) will create 55 new jobs when it opens its first store in Freeport early next week, the franchise's operator revealing that as many as eight stores are envisaged for The Bahamas.
Terry Tsavoussis, vice-president of Aetos Holdings, the company he heads with his brother Chris, which operates the Wendy's and Marco's Pizza franchise in The Bahamas, told Tribune Business that while the company's franchise agreement had initially called for six stores, he envisioned eight in total. Mr Tsavoussis said a fourth store in New Providence is already "on the books" for the first quarter of 2014.
Speaking on the opening of the company's first Freeport store Mr Tsavoussis said: "We interviewed 150 people for jobs at that location which was interesting and we ultimately hired 55 persons which includes management and crew. We have good history in Freeport with Wendy's. We know that the economy has been doing well there in the food business, provided you execute, you do well there. This store is actually very long overdue. We struggled to find the right location. I would have opened a year ago if I could have but we had to find the right location which we finally got which is right near Port Lucaya. We're very pleased, we know it's going to be very successful but again you have to execute. We have to offer a great product, great service and execute."
Mr Tsavoussis said the company planned to open three more stores in New Providence.
"We have no plans to open another in Freeport, one will suffice for the time being. We will revisit that in a year to see if there will be a need for a second location," said Mr Tsavoussis.
He added: "We are going to open at least three more stores in Nassau. Again it's all about location. We do have one on the books to open early in the first quarter of next year. Next year we will probably open two in total and one to two in the following year. I envision about 8 stores in The Bahamas, seven in Nassau and one in Freeport. We were actually committed to six in our development agreement because you have to commit when you sign those agreements with a franchisor and our agreement was for six stores over a period of some seven years; we're four stores now and it's only been three years so were well ahead of our schedule."
Marco's Pizza (Bahamas) employs approximately 275 persons.