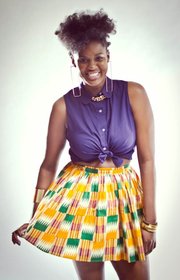 By FARAH
Tribune Features Writer
jgibson@tribunemedia.net
BEFORE hitting the stage at the Apollo Theater in New York two weeks ago, Bahamian rising star Kamilah followed in the pattern of famous performers Ella Fitzgerald, Michael Jackson, James Brown, Lauryn Hill and rubbed the legendary tree stump.
It is believed that performers who touch it with courage have favourable outcomes. Kamilah's outcome was more than favourable, she placed first during the Amateur Night at the Apollo Theater.
"To be very honest, it was the scariest thing I think I have ever done. I was fine the days leading up to the performance. I had been training with a voice coach (Justin Stoney) and working with a music director (Eli Zoller), who helped me flesh out the arrangements for the other instruments with the Apollo house band. I, of course, played acoustic guitar.
"Everyone was so supportive. Just before the intermission, though, the first and only contestant got booed off the stage by the audience, as is the Apollo tradition. That spiked my nerves; audience boos are the one thing every contestant is afraid to hear. One female contestant who went ahead of me, followed by a really talented guitarist. Then it was my turn. My heart was pounding as I watched Capone, the MC, announce my performance," she said.
Kamilah owned her performance of Miguel's 'Adorn', and a mashup of the old Frankie Valli and Lauryn Hill's classic "Can't Take My Eyes Off You".
Having conquered the first round, she is gearing up for the next. And she already knows how she will approach it.
"After the show I was approached by one of the organisers who said I did a great job but that I should, for the next round, pick two songs of equal popularity. He was not convinced Adorn was the best choice, though he understood my reasoning for choosing the song: to appeal to both a younger and older population at the same time. Adorn, I figured, would appeal to the teenagers and 20-somethings in the audience, the late 20 - 40 year-olds would remember Lauryn Hill version of the Frankie Valli classic and the older crowd would also be able to relate. But, I understand what he is saying. The competition will be stiffer for the next round so I need to bring my A game," she said.
News of Kamilah's accomplishment spread quickly on social media, with many Bahamians expressing their admiration for Kamilah's courage and accomplishments.
She believes her successful progress thus far will be an inspiration for other Bahamians with similar talents, and also show them they should never limit themselves.
"The moments leading up to the performance were some of the scariest I have experienced but it has been so incredibly rewarding. The courage it takes to pursue your goals, particularly when they are artistic in nature, is often hard to muster. Pressures of financial stability, fears of failure and difficulty having faith in your own talents can all be major deterrents for artists. But if my experience does nothing more, I would like young Bahamians to feel encouraged to afford themselves the opportunity to share their talents with the Bahamas and the world, should they have the chance.
"Believing in yourself and your talents is the first step. My friends will attest to this, they believed in me long before I did. But it is not until you believe in yourself that you can 'audition'. Putting yourself out there is something I believe everyone should do at some point in their lives. Whether its applying for a job, performing, sharing pieces of visual art, public speaking, running a marathon or any aspiration. You cannot lose by trying. Having the courage to try is a win in itself so as my mom said to me, "Why not?"
Kamilah's passion has always been singing and writing songs ever since she was young. Her favourite genre of music is R&B, Hip Hop, Jazz Fusion, and electronic.
"I remember we were driving in the car one day, it was raining and I made up a song about windshield wipers. I have always been musical. I started in piano lessons between the ages of 5 and 7. I picked up the guitar in fifth grade. I was in and out of formal training for both of those instruments until grade 10 or so. I participated in every school musical and music showcase that my school, St Andrew's, had available. As house captain, I coordinated, arranged composed the music for the annual music and drama competition from 9th to 12th grade. I always wrote poetry, but I truly started singing consistently in 2005, when I started to write my own music and share more at open mic nights around Nassau," she said.
Kamilah completed undergraduate training at York University in Toronto, Ontario where she obtained a Bachelor's of Arts Degree in visual art painting, sculpting and drawing.
In Toronto she performed at open mic events and held solo-gigs at small venues.
In 2012 she was accepted to New York University for graduate school (for a degree in Media, Culture and Communication).
She currently resides in New York and will now be starting her final year of the programme in September.
She has had one solo gig in New York and has been participating in open mic nights regularly since November 2012.
"The Apollo seemed like a logical move; a way to perform on a larger stage for a larger audience and be a part of an amazing legacy," she said.