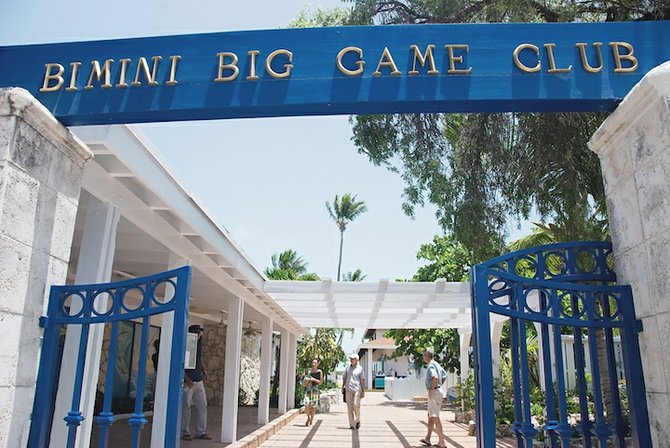 By NATARIO McKENZIE
Tribune Business Reporter
nmckenzie@tribunemedia.net
THE historic Bimini Big Game Resort & Marina is looking to build on its "niche" wedding business segment, Michael Weber, general manager at the resort telling Tribune Business that the resort was receiving quite a few requests.
"We're trying to put those together. We have been trying to grow that market for some time now. My wife Diana, who is the director of sales and marketing, has been hitting the weddings market, attending the trade shows for weddings and so forth. That seems to have paid off. We have been booking it for a solid year now. It takes some time to cultivate the market. We're now starting to see some interest in that segment," said Mr Weber.
Mr Weber added: "We have two weddings for the Fall so far. We have had several others but now we are starting to see the requests building. We have maybe another four to six we are still trying to book."
Mr Weber said that going forward, the resort was looking to restart its certified the shark dive programme.
"Probably around the beginning of September we're going to drip the cage back into the water and get the bull run back up and running again because the sharks have been mating for the past two months. They're coming back in ones and twos. Over the past two months have been zero bull sharks in the bay side here. It looks like the mating season is just about wrapping up and we'll get back in action with the bull run cage. We have had a lot of requests from people wanting to get in into the cage because we have been marketing it so well," said Mr Weber.
Mr Weber said that the occupancies at the 51-room resort and 75-slip marina have been much better in comparison to last year.
"I think we are up five or six per cent over last year in room occupancy and about 12 per cent overall through the resort so far. Like most island properties we are all weather dependent. We can get excited about a sold out weekend and then sure enough a front comes through and we start getting cancellations on Wednesday and that weekend can flop. The weather has been decent, a little up and down in July but we still had a solid month and August is working out well," said Mr Weber.
The Big Game Club, which was founded as a dinner club in 1936, was re-opened in 2010 following completion of a $3.5 million renovation that included all guest rooms, the new Bimini Big Game Bar & Grill, Hemingway Rum Bar and Social Lounge, Gulfstream Conference Center and the Outfitter Shop.