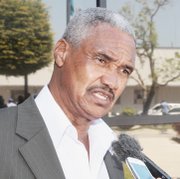 By KHRISNA VIRGIL
Tribune Staff Reporter
kvirgil@tribunemedia.net
THE leaders of both major parties disagreed with Tall Pines MP Leslie Miller's use of parliamentary privilege to accuse someone of his son's killing – but the FNM's Dr Hubert Minnis added that the failures of the judicial system are partially responsible.
Speaking in the House of Assembly on Monday, Mr Miller claimed that a business consultant by the name of Dion Bowe had put a hit out on his son, Mario Miller, 28, whose body was found with multiple stab and chop wounds in bushes near the Super Value food store in Winton in 2002.
Mr Miller said Mr Bowe had approached him to offer information on how the murder of his son had taken place.
Yesterday, Dr Minnis said: "I don't think it was right to name someone in Parliament. There's a judiciary system and whatever else.
"It's unfortunate that his case has not gone to court yet, but that shows the problem with the court system.
"The criminal knows there's such a large backlog and the cases take so long so they feel they can do anything they want because the cases take so long.
"For example, someone had run into my car in 1992; subsequently we caught them and reported them to the police, but that was 1992; we are now in 2013 and that case has never come up – that's how the court system is."
For his part, Prime Minister Perry Christie reprimanded Mr Miller for the move.
Stating a personal belief that the House of Assembly is not the forum to lodge such allegations, Mr Christie insisted that he did not want the government to have a hand in determining the innocence or guilt of a person.
Mr Christie said: "Anyone who knows me, knows that I do not accept that Parliament is a place to do that. I am very clear on that in terms of my own position.
"We are not a court of law, but the statement really has the impact of a judgment against someone. That is why it is a very difficult thing to have that happen in Parliament. 
"I do not know what it feels like to have lost a son or a child (and) I make the concession that I have never experienced the pain of it. Therefore I am unable to say that I could understand the torment of Leslie Miller. 
"(But) I do not want my government or the politics of the Progressive Liberal Party to be caught up in public discussion about whether someone is innocent or guilty in a country where we have laws that enable the police to investigate and determine whether or not it is a prosecutable offence."
If the case is to again go before the courts with Bowe as the accused Mr Miller's comments could have grave implications on the outcome.
Considering that, Mr Christie said the Constitutional Commission has suggested amendments to change Parliamentary procedures which govern such situations.
"They took a position on how Parliament should be used and what should happen if someone is abused whether intentionally maliciously or otherwise in parliament by statements being made. That they would have the right to come to the bar of the House and defend themselves and have them reported."
At 28, Mario was found dead with multiple stab and chop wounds about the body. There were 22 wounds in total, two of which were to his heart with a 16 inch blade. He was found in bushes near the Super Value Food Store in the Winton area.