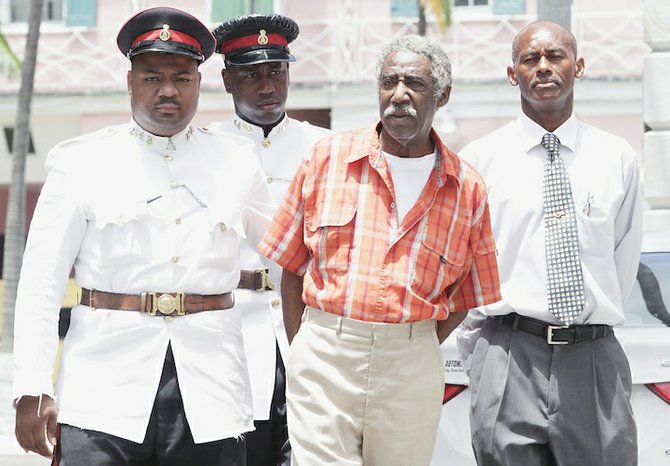 By LAMECH JOHNSON
Tribune Staff Reporter
ljohnson@tribunemedia.net
SIXTY-four-year-old Edward Butler was jailed for 16 years yesterday for forcing a nine-year-old girl to perform oral sex on him on three occasions.
The sentence imposed by Justice Vera Watkins doubled what he received in 1988 when he was first convicted for a similar sexual offence involving a young child and was jailed for eight years.
"The maximum sentence which this court can impose on Butler is life imprisonment" the judge said in her written ruling.
"There is no indication from Butler that he is desirous of reforming his behaviour. He has denied responsibility and has not expressed remorse. It is reasonable to expect a change in behaviour from a convict who has served a prison sentence of eight years."
Justice Watkins also said that it was "reasonable" to expect that a man at 60 years of age "would exercise mature judgment and not take advantage of children who are vulnerable."
"Butler no doubt, has fallen short of this expectation," the judge added.
While prosecutor Darnell Dorsett declined to comment on the sentencing, Butler's lawyer, Raymond Rolle, said the term was a surprise.
"We're kind of surprised at the length of time that he was given with respect to the offence and the circumstances surrounding the offence."
"I'm obviously going to have to take my instructions from him and based on what he says, we'll decide whether or not an appeal will be lodged.
"I will take a few days off and then I'll speak to him so that he has time to consider the full ramifications of what the sentencing indicates," he said.
Butler throughout his trial denied having sex with the girl, now 12, between November 9, 2009 and January 8, 2010.
However on May 30, while acquitted of a pornography charge, he was found guilty of having unlawful sexual intercourse and required medical attention after the 6-3 guilty verdict was announced.
His sentencing was deferred to July 26 when a probation report was presented to the court and counsel made submissions. The judge said she would hand down her ruling on August 14.
Yesterday, Justice Watkins handed down the sentence in a six-page document.
The judge noted that while Butler had not been convicted of any criminal offences since 1988, she said the aggravating factors of the case outweighed the lone mitigating factor.
The first aggravating factor was his age at the time of the offence and the second was that "the victim was nine years of age at the time of the incident and may suffer from long term and/or permanent damage as a result of the experience."
The judge while noting that the convict knew the complainant and her family, she also considered his previous conviction for a similar offence and that "Butler has not shown remorse."
Justice Watkins sentenced Butler to 16 years at Her Majesty's Prison and noted that his term took effect from the date of conviction.