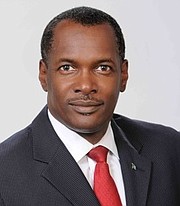 FREE National Movement senators yesterday followed their colleagues who boycotted parliament on Monday because of the suspension of their leader, Dr Hubert Minnis, from the House.
The move was described as disappointing and disgusting by Senator Frank Smith who spoke on behalf of government senators yesterday at a press conference.
"I wish to register on behalf of the Bahamian people our disappointment and disgust at their behaviour," Senator Smith said.
"Because at the end of the day, we're here to serve the good of the Bahamian people through their participation. And it is my understanding that they had breakfast earlier in the morning at the taxpayer's expense then refused to enter into the chamber."
Desmond Bannister, leader of Opposition business in the Senate, explained why the boycott of the Senate chamber occurred when speaking in the Minority room of Parliament.
"As a courtesy to the vice president, we sought to make a communication where we would advise them of it."
The vice president in his authority, he said, did not allow the communication because of its "controversial nature."
Senator Kwasi Thompson said FNM senators would not enter the Senate chamber until Dr Minnis and other FNM MP's returned to the House.
Last week, Dr Minnis was suspended for two sittings of the House for comments he made about Prime Minister Perry Christie and Peter Nygard. He had refused to withdraw his comments.
On Monday, FNM members, excluding Central Abaco MP Edison Key, continued to boycott Parliament in support of their leader.