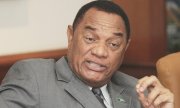 By KHRISNA VIRGIL
Tribune Staff Reporter
kvirgil@tribunemedia.net
PRIME Minister Perry Christie yesterday denied that the government's move to privatise BEC was influenced by special interests.
He further insisted that his administration had not selected any entity to take over the financially struggling Corporation, as was asserted by FNM Chairman Darron Cash on Wednesday.
In fact, Mr Christie told reporters that the government was pushing to seal the BEC deal by the end of the year as major businesses in the country complained that the cost of electricity was problematic. According to the Prime Minister, those establishments had pleaded with the government to generate their own power supply. With such a move, Bahamians would experience a hike in electricity costs, Mr Christie said.
"I am told that they are even saying that we are doing it that way because we know who were are going to give it to. If that is the case then maybe he should tell me who we are going to give it to." 
"Some  of the big corporations in the Bahamas have reached a point where they can no longer accept the cost of electricity. 
"The people of the Bahamas through my government from time to time subsidises when hotels say we are going to lay off people. This summer period, we said, okay we will offset some costs for you by using government revenue to do so. We will not charge you certain fees on the taxation of the casino to offset. Please stay open and keep people employed.
"They have now come to us and said we want to come off of the electricity grid up to a certain point by generating electricity of their own. For the Bahamas, if it happens that way the Bahamian people have to pay more because these big companies who pay more will not be around. So we have been meeting with them and we have been giving them the assurances that we are moving as quickly as possible."
At this stage in the process, Mr Christie said the government has now to make a decision from more than 60 applications which includes not only foreign entities but Bahamian groups. He said the government hopes to follow the Nassau Airport Development Company's (NAD) model to manage BEC.
"What we have done is put out a request for proposals that defines what we want and we are inviting amongst others those 60 or 65 applicants to review what we are saying. We want them to bid on the management of BEC exclusively, similar to what NAD is where there are no shares. You simply come in and manage BEC or that a foreign company becomes responsible for the generation or a private company becomes responsible for the generation of electricity at BEC and the management and distribution of it," Mr Christie said.