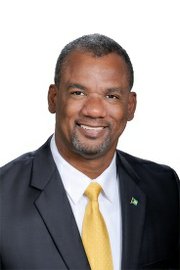 DESPITE the government's stated focus on improving public education, the average results of the 2013 BJC and BGCSE examinations continue to hover around D.
In revealing the results yesterday – which included E averages in mathematics – officials, for a fourth year in a row, refused to release an official national average. However, a Ministry of Education employee claimed is was approximately D+.
Officials did not release the averages for individual schools, but in past years, private schools have generally performed better than their public counterparts – meaning that more than a year after the PLP promised to double the investment in education, the public school average may be even lower than D.
The results of the 2013 BJC and BGCSE national examinations, showed a decline in mean mathematics scores to an E+ and E, respectively, and mean grades for every subject not rising above C+.
Education Minister Jerome Fitzgerald, yesterday said there is "a lot of room for improvement" and the government is "committed" to making those improvements.
A total of 31,886 students sat for the BJC examination, he said, a decline of 3.43 per cent compared to last year's 33,018.
Three subjects showed an improved mean letter grade when compared to last year: Craft Study rose from C- to C; English rose from D+ to C-; and General Science rose from D- to D. Health Science dropped from D+ to D; Religious Studies from D to D-; and Mathematics from D- to E+.
Some mean letter grades remained the same: Technical Drawing, C+; Family and Consumer Science, C+; Social Studies, C-; and Art, C. The latter two, however, showed an improved mean GPA by .02 or less points.
Mr Fitzgerald noted there was an improvement in the number of grades award between A to C level - increasing from 47.91 per cent in 2013 to 49.58 per cent, this year. The highest since 2007. However the number of U grades has increased by .63 per cent when compared to last year.
A total of 7,140 students sat for the BGCSE examination, Mr Fitzgerald said, an increase of .32 per cent compared to last year's 7,117.
Of 27 subjects tested, only 4 showed an improvement in mean letter grade: Religious Studies rose from a C- to C; Music rose from a C to C+; History rose from a C- to C; and Commerce rose from a D+ to D.
However, the minister noted, seven subjects showed .02 per cent, or less, improvement in mean GPA - although staying at the same letter grade: Typewriting/Keyboarding, D+; Spanish, C; Office Procedure, C-; Food and Nutrition, C-; Economics, D+; Chemistry, C-; and Biology, D-.
Subjects who showed a decrease mean letter grade when compared to last year include: Art and Design (A, B, and C), Auto mechanics, Book-keeping and Accounts, Carpentry and Joinery, Clothing Construction, Combined Science, Electrical Installation, French, Graphical Communication, and Mathematics.
Those letter grades include Mathematics falling from E+ to E; French falling from C to C-; and Book-keeping and Accounts falling from D to E+.
English Language, Geography, Literature, and Physics kept the same mean letter grade as last year but declined in GPA, with the latter three showing a decline of .02 per cent, or less. The letter grades are D, C, C-, and C-, respectively.
Mr Fitzgerald said the cumulative percentage of grades awarded between A to C is "slightly higher" than in 2012, increasing from 47.76 per cent to 48.57 per cent. The highest since 2007. However "of concern," he said, the number of grades award at G and U.
Mr Fitzgerald said he is not concerned with a national average. Rather, he said, he is concerned about the number of students who are leaving school without competent literacy or numeracy skills.
"Personally, I'm not overall concerned about the national average. My major concern is that we have students leaving grade 12, leaving school, who are not functionally literate or numerate - that is a major, major concern for me. It's a major concern for the ministry," he said.
"Our concern is that 30 per cent that continue to fall through the cracks and not do well - that's at the BJC level. By the time they get to the BGCSE level, we have, what we know, is almost 50 per cent of students who leave only with a leaving certificate - which means they don't meet the requirement to graduate."
Assistant Director of Education Serethea Clarke said a calculation of the national average has been discontinued for the past four years because not all of the candidates sit in the same examinations.
She explained: "We focus on subject analysis as opposed to the overall national grade point average."
Mr Fitzgerald added: "In spite of that and getting hung up on a national average, the point is that we at the ministry are not satisfied with the outcome of students, particularly when it comes to mathematics, and there is a lot of room for improvement.
"We are not satisfied. There is a lot of work that needs to be done and we are moving about now to do the work that is necessary to equip our students so that when they leave high school, they have the basic education and they have the tools necessary for them to go out and make a positive contribution to our country."
Mathematics grades are "unacceptable", Mr Fitzgerald continued, attributing that to the country's focus on literacy.
"We are concerned about the results in mathematics examinations. Our focus, I feel, to a large extent, has been on literacy," he said, explaining the country has seen "steady increases" in English language results.
"The Department of Education, we must accept some responsibility for the deficiencies in our mathematics results and our ministry's failure to implement required strategies to improve not only teaching, but our results in this area," he said.
"It's no secret" the education sector has challenges in finding "skilled" mathematics teachers – both locally and abroad, the minister said, naming future in-house training as one solution to this problem.
"The issue we have with math teachers is really a worldwide issue, it's not just in the Bahamas. There's great competition for math teachers and so we get as many as we can," he said.
Also lined up to help raise grades across the country, Mr Fitzgerald said, is the introduction of a standardised national diploma which will identify students who are not meeting standards by grade 10. He said he already has a draft on his desk and will present the initiative to Cabinet.
"What we have found in the past is that when we receive these results, we really have not put in the strategies to deal with these students who, essentially, are falling through the cracks or not performing well – and they continue to move from year to year without the necessary required intervention that is needed."