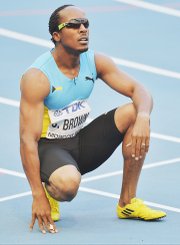 By BRENT STUBBS
Senior Sports Reporter
bstubbs@tribunemedia.net
MOSCOW, Russia — Some things were just not meant to be.
For Chris "Fireman" Brown, it's leaving the 14th IAAF World Championships for the first time without a lane in either or both the men's 400 metres and the 4 x 400 relay. But despite his shortcomings, he was still appreciative of the opportunity to compete here.
"I would sum up my performance as pretty good," he said. "It wasn't the best or the greatest season I've had, but in all things I give God praise and thanks for allowing me to come here healthy and to leave healthy."
At age 34, when most athletes would be considered past their prime, Brown continues to chug along, even though it's still disappointing that his bid for his first individual global medal at the World Championships was stalled just as it was at the Olympic Games in London, England, last summer.
"I just go out and have fun and do what I do best and that is to represent the Bahamas," he said. "Unfortunately, things didn't work out the way I anticipated in both the 400 and the relay, but there's always tomorrow and the day after."
Brown, the most decorated Bahamian for more than the past decade, said he's just going to use the experience as a motivation to get him ready for the remainder of his career. Just how he intends to continue, only time will tell.
"I'm going to rest my body up next year so that I can be ready for 2015 and 2016," he said.
"I still think I have a lot more left in the tank, so I'm not looking at calling it quits just yet."
Before he's done for the year, Brown said he's contemplating running in a few more meets in Europe.
"I'm not sure if I'm going to take them because my body needs to rest," he said. "I pushed my body to the maximum this season, so for me, I'm just going to rest up and look forward to the following years to come. But right now, my body just needs some rest."
Brown, who began his first stint of life after competition when he promoted his first Chris Brown Invitational at the Thomas A Robinson Track and Field Stadium in April, didn't make it out of the semifinal of the 400 metres after he clocked a season's best of 45.18 seconds for third in his heat and 10th overall.
The Bahamian national record holder at 44.40 also ran on the opening leg of the 4 x 4 team with the fastest split of 42.47 or a corrected time of 45.66 to lead the remainder of the quartet of Wesley Neymour, LaToy Williams and O'Jay Ferguson to fourth in their heat in a SB's of 3:03.88 that placed the Bahamas 13th overall.
While he has been successful in winning four medals at the IAAF World Indoor Championships over the past four biannual meets, he has matched that with four World Championship relay medals and three Olympic relay medals.
Brown has also dominated at the regional level, taking the gold in the Pan American Games in both the 400 and the relay.
Additionally, he's the recipient of two individual and a pair of relay medals at the Central American and Caribbean Championships.
The Eleuthera native, who switched from running the 800, began his international campaign as a double bronze medallist in both the one-lap and two-lap races at the CARIFTA Games in Bridgetown, Barbados, in 1997.