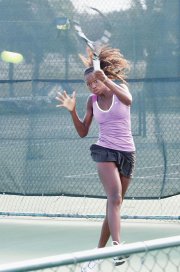 By RENALDO DORSETT
Sports Reporter
rdorsett@tribunemedia.net
A very hot summer for young tennis ace Simone Pratt continued on the court with another tournament title on the ITF Junior Circuit over the weekend.
The top seeded Pratt claimed the Girls 18 championship at the Coca Cola ITF Tournament with a 6-1, 6-1 win over Breana Stampfli of Trinidad and Tobago.
After a bye in the opening round of the tournament hosted in Castries, St Lucia, Pratt stormed through the competition and lost just seven games in four matches.
In the second round, she won 6-1, 6-0 over D'Jeri Raymond of Antigua and Barbuda, 6-0, 6-1 over Nandu Mandalap of the United States, and advanced to the final with a 6-2, 6-1 win over Madison Appel of the United States.
Danielle Thompson, ranked third in the draw, was eliminated in the quarterfinals in a three-set match against Anjana Suresh of Canada 6-3, 3-6, 6-3.
Pratt and Thompson teamed up in doubles play, but lost in the semifinals to Appel and Stampfli, 6-2, 6-3.
Also at the event, third seeded Treajh Ferguson partnered with Arthur Stefani of Brazil to reach the final of the Boy's Under-18 Doubles which they lost to Stefan Cooper of Great Britain and Myles Schalet of the US.
In singles play, Ferguson lost to Troy Dixon of Great Britain in round one 6-3, 6-1.
It was the third consecutive final in an ITF Junior event for Pratt. In July, she scored an historic Junkanoo Bowl title victory on home soil after Sofia Kenin of the US retired midway through the second set.
In April, she also reached the final of the 2013 JITIC tournament in the Dominican Republic where she lost 6-2, 6-4 to Cassandra Vazquez of Mexico.
During the summer she also competed internationally at the senior level as a member of the Bahamas' Fed Cup team which received promotion to Group I.
The Bahamas finished at the top of Group B, and the 17-year-old Pratt won four of her five singles matches. She won 6-4, 6-3 over Yolande Leacock of Trinidad and Tobago, 7-5, 6-3 over Artiga Henriquez of El Salvador, 6-1, 7-6 over Mariella Calderon of Costa Rica, and 6-1, 6-1 over Ines Canepa of Uruguay.