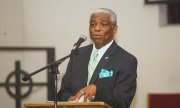 By RASHAD ROLLE
THE government's contract with the company that supplies ankle bracelets for suspects on bail may not be renewed, with National Security Minister Bernard Nottage saying the government has not been satisfied with the results of the system to date.
In a move touted as a major initiative to curb crimes committed by persons on bail, former FNM Minister of National Security, Tommy Turnquest, signed a contract with ICS Security Concepts in December 2010 to outfit people on bail with ankle bracelets to monitor their movement.
After a series of events suggesting problems exist with the system, Mr Nottage is expressing his concerns with the programme, but declining to reveal whether the contract with ICS Secrutiy Concepts will be renewed.
"I can't speak to the current contract, it would be improper for me to do so," he said, adding: "All I can say is that it's the government's intention to ensure that we have the most efficient and effective system of electronic monitoring for persons on bail that is possible for us to get.
"We clearly have not been completely satisfied with the system that does exist and so we are looking for ways to improve that during the course of the next couple months."
On July 29, the bruised body of a man wearing an electronic ankle bracelet was found in bushes on the north side of the South Beach canal.
Since then, Democratic National Alliance leader Branville McCartney has openly criticised the programme, saying: "A blind man can see that a contractual problem exists between the government and ICS.
"Bahamians can't fathom how someone who is being monitored is dead for a week, the police are apparently unaware that the person has died and then ICS saying that they followed proper procedure.
"Persons on bail who are outfitted with ankle bracelets have committed murders, been murder victims and have committed armed robberies.
"The DNA contents that there should be basic protocols for persons on bail who are outfitted with ankle bracelets."
The president and CEO of ICS Security Concepts could not be reached by The Tribune for comment on the status of the contract negotiations yesterday.