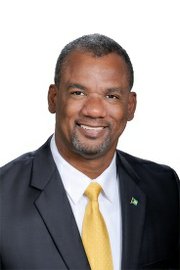 By RUPERT MISSICK JR
EDUCATION Minister Jerome Fitzgerald is saying as little as possible about a threat from Teachers Union President Belinda Wilson that her members will shut down two schools in the country if the schools' principals are not removed.
When asked what his response to the threat was Mr Fitzgerald told The Tribune, "President Wilson has expressed her views to us."
In the meantime, the BUT has promised to pull 130 teachers from what they say are a belaboured school in New Providence and one in Grand Bahama.
According to Ms Wilson she and the union have been expressing their views on the principals in question to the minister, the director of education and district superintendents of the two schools for the past two years.
"For the past year and a half to two years we have expressed our concern about these principals and documented information on them. We have repeatedly asked that they be removed or transferred.

"So yes, they would have met and are responsive in that sense, but have not taken action," she said.
Ms Wilson would not reveal the name of the schools or principals, but said she would do so if Mr Fitzgerald fails to meet the demand of the union, teachers, parents and members of the community surrounding the campuses.
While there have been many assertions that the school in question in New Providence is Anatol Rodgers, Ms Wilson would neither confirm nor deny this.
"The parents are in support of our position, the teachers, even the custodial staff and people in the community.
"The academic goals of these schools are suffering because of a lack of leadership and the work environment is hostile, there is no cooperation from the administration or respect for the teachers," Ms Wilson said.