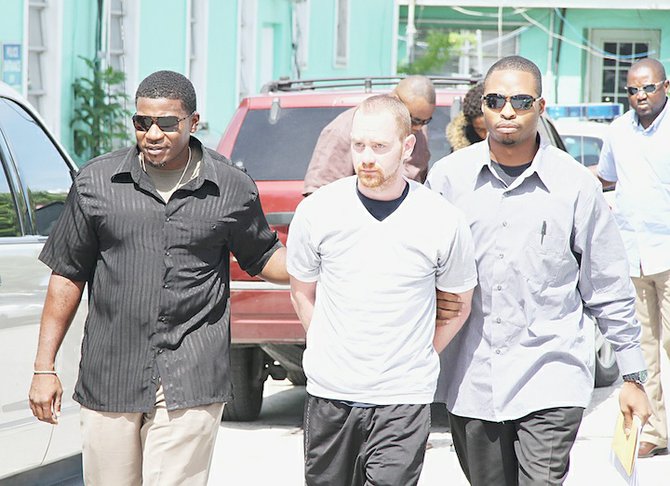 By LAMECH JOHNSON
Tribune Staff Reporter
ljohnson@tribunemedia.net
AN American man vacationing in paradise is now behind bars at Fox Hill prison after being denied bail yesterday in connection with a rape allegation made by another tourist.
Ryan Patrick Doherty, 26, of Yonkers, New York, learned that he would not be getting bail four hours after he was arraigned before Acting Chief Magistrate Joyanne Ferguson-Pratt, who ruled that her hands were "tied in this matter".
"I'm bound by the law," she said before she remanded him to Her Majesty's Prison to await trial.
The 26-year-old network engineer and alumni of the College of Westchester, NY faces a single charge of rape, alleged to have been committed on Monday, August 16.
He was not required to plea to the charge due to its nature.
It is claimed that he, while at Paradise Island, had sex with a 20-year-old woman without her consent.
Police prosecutor, Inspector Clifford Daxon, informed the court that the crown would be proceeding via service of a Voluntary Bill of Indictment to fast-track the matter to Supreme Court for trial. The prosecutor then went on to object to bail on the basis that the accused had no ties to the Bahamas, being a non-Bahamian, and is therefore a flight risk.
Kimberly Evans, Doherty's attorney, countered that her client had no antecedents in either the Bahamas or in his home country and was gainfully employed as a network engineer making more than $70,000 a year.
She also claimed that her client was of good character and conducted himself in a mannerly way when dealing with police.
Evans submitted that cash bail was an acceptable option for Doherty under the circumstances.
Before the acting chief magistrate could rule on the points, Inspector Daxon submitted that bail could not be granted to the accused under the new Bail Act, which was amended in November 2011 and removed the magistrate's discretion in such cases.
The magistrate asked him to support this and he produced a copy of the amended law.
The magistrate then adjourned the matter to 2.30pm. However, she did not return until 3.45pm, when she informed the court that "the legislature, in its wisdom, has removed discretion originally invested in magistrates.
"Had this discretion been vested in me, it is very likely the court would've taken a different course.
"Mr Ryan Doherty, the court denies you bail on the charge. I also advise you that you have a right to appeal my decision.
"My hands are tied in this matter, I'm bound by the law," she concluded before remanding him to await trial.
Doherty's next court appearance is set for November 18, when he expected to be served with the VBI.