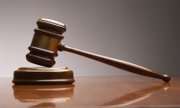 By LAMECH JOHNSON
Tribune Staff Reporter
ljohnson@tribunemedia.net
FORMER death row inmate and murder convict Maxo Tido requested the Court of Appeal's assistance yesterday in getting an attorney to aid him in challenging his 52-year sentence for the killing 16-year-old Donnell Connover.
Tido, who explained that he was not in a financial position to hire his own lawyer, also asked Justices Anita Allen, Christopher Blackman Abdulai Conteh if it was possible that Jerone Roberts be retained.
The court granted his request to be appointed an attorney by the Registrar at the public's expense. However, they informed the convict that Roberts would only be appointed "if he's willing".
Having said this, appellate court president Justice Allen recused herself from the matter because she was the presiding judge in the case that led to his conviction and original sentence of death.
Tido's matter was adjourned for March 2014, when it will be heard by a panel which does not include Justice Allen.
Tido, who was sentenced to die in 2006, saw this decision overturned by the London-based Privy Council in June of 2011.
On March 20, 2006, a jury convicted Tido of murdering the 16-year-old in 2002. Her body was found off Cowpen Road, battered and bruised, her skull crushed. Evidence also revealed that parts of Ms Connover's body were burned after her death.
A month after his conviction, then Senior Justice Allen ruled that the crime committed by Tido warranted the death penalty.
The decision came days after the Privy Council ruled that the mandatory death sentence in place up until that point in the Bahamas was not constitutional.
In 2009, the Committee for the Prerogative of Mercy decided the law should take its course, as Tido's case was not one that warranted mercy.
However, he appealed to the Privy Council, the highest court of appeal recognised in the Bahamas, which ruled that the killing of Connover did not warrant execution. Consequently, he had to reappear before the Supreme Court for re-sentencing.
This re-sentencing occurred March 2012 before Senior Justice Jon Isaacs, who gave Tido 52-years imprisonment after noting: "I have not found in you true remorse."