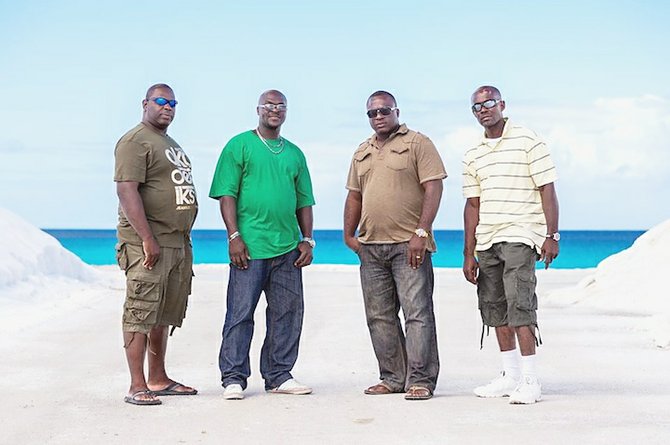 By FARAH
Tribune Features Writer
jgibson@tribunemedia.net
ALTHOUGH the Global Battle of the Bands competition is open to any musical group, playing any style of music, members of Kontact, believe any band that wants to win the local competition would have to perform a specific genre of music.
The Kontact Band was one of two bands to perform Bahamian music during the competition. Kontact hails from Inagua, and New Entry hails from Abaco; they were eliminated in the first round of competition.
The bands were challenged to use a variety of skills to deliver the best performance of their original music compositions. No covers were allowed.
During the preliminary rounds, audience members determined which band moved forward. The judges determined the winner in the final round.
Although the two Family Island bands were not able to rally enough support to advance, Rico Arnette, leader of Kontact said they were disappointed that "the only two bands that played Bahamian music and were from the Family Islands were eliminated."
"We believe for you to win the Global Battle of the Bands you have to go there and play that hard rock music. If Kontact band was to enter the competition again we believe we would have to change our style up. We have to come with that rock and roll music," he told In Ya Ear.
Ricardo Berris chairman of GBOB Bahamas, emphasised that the organisation welcomes all bands that plays any style of music.
"I do not think any band has to change who they are or change their sound. Music is a universal language, and when it hits you like Bob Marley says you feel no pain. So the objective of any band who is interested in international exposure is to look at their product and look at their market, because it is really like a product.
"You produce a product for consummation and if you think your product is suitable for a wider audience then put it forward. It is about being confident about what you have. I am totally not in agreement with that because that would have been a form of discrimination.
"If you play x, y, z and you want to put that forward then put it forward. The judges and the audience are the ones who make the decision," he said.

The judging panel included: Raphael Munnings, returning judge; Clinton Rolle; Dr Audrey Wright; and international guest judge Amanda Van West of Dream 955, which is an international organisation based in California that produced the popular Band of the Day mobile app.
In a bid to get some of the local bands featured on the Band of the Day app, GBOB decided to incorporate Dream 955 to help determine which bands can advance to the World Finals and what sort of work would be needed to get the bands to a certain level.
Amanda Van West has come into contact with over 700 bands around the world.
She said: "It is important for any band trying to break into the global market to be aware, so pay attention to what people are writing about on music websites, blogs and listen to as much music as they can.
"I think it is better for any band to stay true to their sound. If you are a Bahamian band play traditional music then you should just stick with that and there are a lot of people out there who would really like it because it is different from what we are used to," she told In Ya Ear.