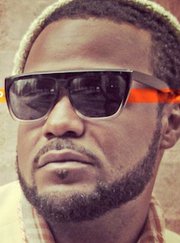 LESH
Tribune Features Reporter
acadet@tribunemedia.net
WITH THE Holidays right around the corner, the pine trees are now being lit, the streets are filled with green, red and white lights, and locals are feeling holly and jolly.
All that is needed is the perfect Christmas track-list to fit the mood. Bahamian singer and producer Sammi Starr is entertaining his supporters in this essence with his new Christmas releases.
All produced by Sammi Starr for Starrboy Inc, the singles include: "This Christmas" by Darrenique Mortimer, " Merry Christmas" by Sammi Starr, M Deez, Sketch and So$a Man, and "Give Love On Christmas Day" by M Deez and Sakinah.
"We've heard Christmas songs coming from artists all the time and talked a lot about the possibility of doing the same thing as well known artists. This year we decided to actually get it done," Sammi told In Ya Ear.
In the midst of his busy schedule of being a radio host on More 94 FM, working on community projects and raising a three year old with his wife, Sammi said he has still been able to work on hot new music.
"This is not the first time producing Christmas singles, but its the first time we've officially released a Christmas single, so we look forward to the feedback from everyone," said Sammi.
Having worked with a lengthy list of local artists in his recording studio, Sammi said he still hopes to work with many more musicians in the future.
Many know him as Sammi Star the singer and performer, but very few are familiar with the Sammie that is also responsible for what goes on "behind the scenes" in many songs released by artists in the Bahamas.
In his teenage years, Sammi became a sought after record producer. He later become a star as a recording artist releasing top hits like We Winning, Good To Know You, I'll Never Leave, Send Your Light, Same Girl, and many more.
He is also a member of the music group The Rat Pack that includes M Deez, D Mac and So$a Man.
Getting M Deez, Sketch and So$a Man on board for the "Merry Christmas" single was easy for Sammi, because he looks as the musicians as family.
"We've been in this business for a long time and we all came up together. It was a simple phone call. The brothers all jumped on board and we got in the studio and recorded the song," said Sammi.
Sammi said he started working on the Christmas songs as early as 2009, when he linked with Darrenique Mortimer.
"The process is actually fairly easy, in most cases people cover old Christmas songs. So its just a matter of making a new track, or even using an instrumental, arranging the melodies and recording it," said Sammi.
Sammi said they pulled out all the stops for the official Merry Christmas song.
"I was in the studio one day with M Deez, Byron (Young B) and Sosa Man, and I was working on a new track, and played the Christmas bells by mistake and I was like, this would make an awesome Christmas song track. I went for an R and B feel, but kept the Christmas vibe. I wrote a catchy hook, got M Deez and So$a Man to write verses, got sketch involved, he sang the hook along with me as well and the song was completed. We were really creative in the lyrical content, talking about all the things we would want to do for Christmas but realistically only wanting our loved ones," said Sammi.
For Sammi, his favourite Christmas tradition in the Bahamas is dressing up in his decked out holiday attire with his family. Then comes driving around town with his loved ones, after opening gifts.
"In 2014 you will see a brand new vibe from me with my music. I'm all grown up now and focusing on a more mature vibe with my music. There will be a lot more live instruments, acoustic performances, suit and ties instead of just jeans sneakers and sunglasses, and of course you will hear amazing music," said Sammi, wishing fans a happy holiday.