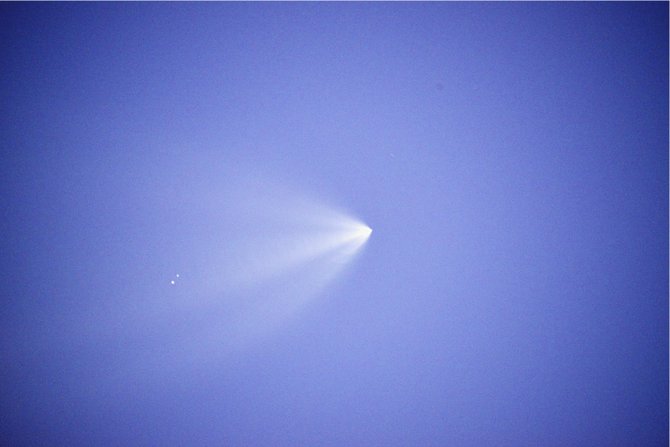 A NEW communications satellite was launched into space aboard a private rocket last night - and its launch was captured by photographers in The Bahamas.
Freelance photographer Nicholas Klonaris took pictures from his home at Caves Point in West Bay Street.
His image shows booster rockets dropping off shortly after the rocket launched at 5.41pm last night.
Meanwhile an image was posted onto the Facebook site of FNM Deputy Leader Loretta Butler-Turner of the rocket as it passed over the Jib Room in Abaco.
It was posted by Linda Kenny Leffler in Abaco.
Mrs Butler-Turner's Facebook page recorded comments by people who spotted the rocket in Abaco, Nassau, Briland and Inagua.
"Reports that there was 'a strange object' in the sky over Long Island seems to have been seen over Nassau too. Maybe other islands witnessed this as well? Persons are wondering what it was," Mrs Butler-Turner posted.
The images are of the SpaceX Falcon 9 rocket which lifted off from Cape Canaveral Air Force Station on Tuesday, carrying a 7,000-pound satellite.
It will be placed in geostationary orbit. That means it will orbit at a fixed point above Earth, in sync with the Earth's rotation.
The launch was originally scheduled for early this year, but has been delayed by technical issues with the rocket.
The last try was on Thanksgiving Day when two attempts were aborted.
The SES-8 satellite will be used in conjunction with another communications systems to increase bandwidth capacity in Asia and provide expansion of services such as maritime communications and distance learning programmes.