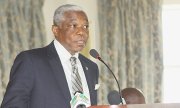 By KHRISNA VIRGIL
Tribune Staff Reporter
kvirgil@tribunemedia.net
MORE than two years after 11-year-old Marco Archer was murder by a sexual predator, the government moved the highly anticipated amendment to the Child Protection Act named in the child's memory.
Marco's Law, which is expected to establish the guidelines for a Mandatory Action Rescuing Children Operation was tabled in Parliament yesterday.
The alert system, National Security Minister Dr Bernard Nottage said, is similar to the AMBER alert in the United States.
The change to the Child Protection Act will cover all missing children. When such a child is reported and authorities are satisfied that there is a risk of harm or death, the Commissioner will be required to use the MARCO alert.
Dr Nottage said: "It is (bitter sweet) because never would I have thought that in our beautiful Bahamas, we would have reached to this point where our precious darlings would be at so much risk that an alert system would be necessary. On the other hand it is somewhat sweet because I was directly involved in this matter from the day I became aware of the missing child, little Marco Archer, and today I have the honour to bring legislation as a result of his tragedy."
Any abuses or breaches of the alert system will face penalties, Dr Nottage said.
Once the alert has been sounded by the Police Commissioner, commercial radio stations, television broadcasts, teletexts, electronic network system, billboards and other means necessary will be used for dissemination.
And for the first time an amendment to the Sexual Offences Bill will include a sexual offender's register.
"With the introduction of this legislation, one sexual offenders register will be established and several places will be designated as registration centres," said Dr Nottage.
"Some may ask why a sexual offenders register? Too numerous young innocent children have fallen victims to sexual offenders. In 2005 a man was convicted and sentenced to imprisonment for a sexual crime, five years later he was released and within two weeks after his release he was again arrested for a sexual assault on a young girl. It this wasn't sufficient, young Marco Archer was violently abducted, sexually molested and murdered by a convicted sexual offender."
Officials hope that the new register will cause sexual offenders to strictly adhere to the reporting requirements outlined or face penalties of imprisonment or fines.