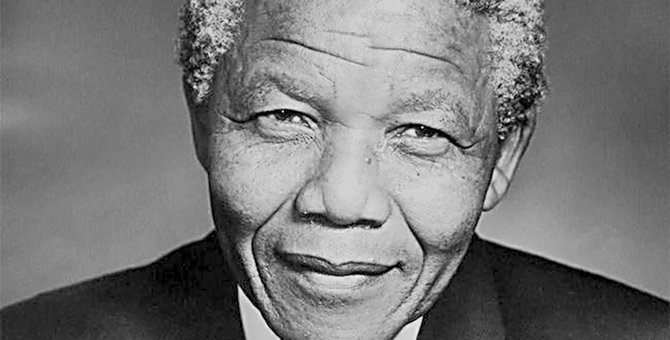 By AVA TURNQUEST
Tribune Staff Reporter
aturnquest@tribunemedia.net
THE death of anti-apartheid icon Nelson Mandela was met with great sorrow yesterday as leaders acknowledged the impact of South Africa's first black president on democracy throughout the world. 
After battling a lung infection in hospital for three months, the 95-year-old Nobel Peace prize laureate died at home where he had been receiving intense home-based medical care.
Foreign Affairs Minister Fred Mitchell told The Tribune: "It's a personal sorrow having known him, worked around him and fought for him. It's a personal sorrow."
The Bahamas government extended condolences to the government of South Africa yesterday, according to the Ministry of Foreign Affairs press statement.
It read: "We are deeply saddened by the passing of Nelson Mandela, freedom fighter, Revolutionary, Civil Rights icon and the first president of a post apartheid South Africa.
"His passing brings an era to an end and this global towering figure of social and racial justice will cast an indelible shadow across the continent of Africa and indeed the world.
It continued: "His release from prison after twenty-seven years and eventual ascension to the presidency of the Republic of South Africa nineteen years ago hold special significance for The Bahamas as former Prime Minister Sir Lynden  Pindling, as the chair of CHOGM led the principled campaign within the Commonwealth to secure Mandela's release."
Mr Mandela, the symbol of the anti-apartheid movement, spent 27 years in prison for his revolutionary activities before emerging to win the first fully representative, multiracial election in the history of South Africa.
He served as president of the country from 1994 to 1999, and was president of the African National Congress (ANC) from 1991 to 1997. Born into the royal family of one of South Africa's Xhosa tribes, he studied law at the Fort Hare University and the University of Witwatersrand before becoming involved in anti-colonial activities.
After the all-white National Party came to power in 1948 and began implementing apartheid, he played a prominent part in the ANC's Defiance Campaign in the early 1950s. He was arrested many times for seditious activities and was prosecuted with several of his ANC counterparts, but was found not guilty in 1961.
After helping found a militant organisation that bombed government facilities, he was convicted of sabotage and conspiracy to overthrow the government, and sentenced to life in prison. Freed in 1990 after an international campaign of protest, he negotiated with then President FW de Klerk to abolish apartheid and establish representative democracy in South Africa.
After being elected, he launched the Truth and Reconciliation Commission to investigate past human rights abuses. In 1993, he won the Nobel Peace Prize. Among his many honours are the US Presidential Medal of Freedom, and the Soviet Order of Lenin. 
Yesterday, current South African president Jacob Zuma announced that national flags will be lowered to half mast and Mr Mandela will be honoured in a state funeral. 
Leaders around the world expressed their sorrow at his loss, with US President Barak Obama saying he could not imagine his own life without Mandela's example. His struggle resonated with leaders in the Bahamas as well. Government ministers, opposition MPs, trade unionists and priests took part in a march to mark his release from prison in 1990. 
Mandela later visited the Bahamas in recognition of the work done by the then Prime Minister Lynden Pindling in opposing what was happening to him. Community activist Rev CB Moss was a member of the "Free Mandela" committee and helped organise that event.
Last night, Rev Moss said: "I'm saddened but I accept it and I'm relieved in a sense that he has reached the end of the line, like everyone else who would like to go out in dignity and end his life in a dignified way with all of his faculties. I thank God for him, for his life, he inspired so many, including myself."
Said Rev Moss: "Mandela held no malice, after it was all over, after he was vindicated, he called for love and peace. He had the most powerful posture. He was imprisoned for 27 years and his life was taken away from him and only the hope beating in the breast of his people kept his image alive.
"When I joined the committee, no one really knew what he looked like. At the time, the South African government had banned photos of him, but he still stayed and fought silently. I am convinced that you can win even if marginalized and victimized, truth and justice always will prevail.
He added: "Mandela has left a legacy that will go on inspiring countless of his own people and people of the world. When he finished his first term as president, he stepped gracefully from power. He showed us the way that democracy should be practised, and for that the world is forever grateful."