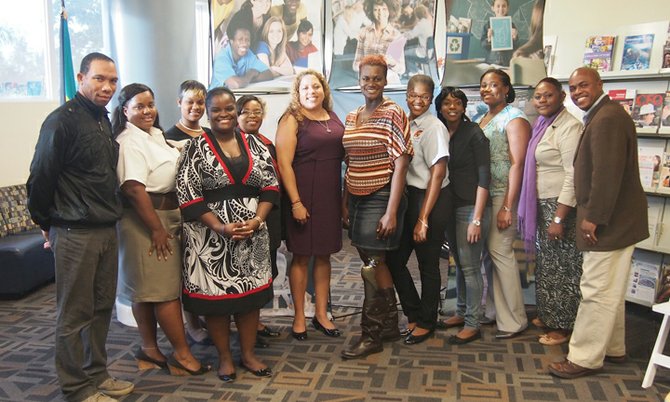 By JEFFARAH GIBSON
Tribune Features Writer
jgibson@tribunemedia.net
WOMEN ARE not the only victims of domestic violence. Men in the Bahamas and around the world are abused and battered in intimate relationships. These cases are even more under reported.
While conducting two days of extensive training focused on the prevention of domestic violence, Detective Holly Tucker, a 15-year veteran of the Broward Sheriff's Office in South Florida, encouraged men to report cases of domestic violence, educate themselves and seek help.
In an effort to reaffirm its commitment to ending violence against women and bring focused attention to the issue, the US Embassy's International Narcotics and Law Enforcement Affairs Section invited Detective Tucker to meet with law enforcement officers, government representatives and local NGO's in Nassau and Freeport to address challenges.
Detective Tucker is assigned to the Special Victims Unit/Criminal Investigations Division and comes face to face with cases of domestic violence daily. Her case load primarily includes incidents against women. There are a few cases in which women are the perpetrators, she said.
Domestic violence — also known as domestic abuse, battering or intimate partner violence — occurs between people in an intimate relationship. Domestic violence against men can take many forms, including emotional, sexual and physical abuse and threats of abuse.
Detective Tucker said one of the reasons domestic violence against men goes under reported is because some men are embarrassed to come forward about the abuse.
"We do not see it a lot because unfortunately men do not report it. It is very under reported with men because in today's society they are viewed as weak by their peers or their family. Their families may say 'what do you mean she is beating you up?' That happens. I have a couple of cases that do involve men but there are very few that come forward," said Detective Tucker, while in the Bahamas last week.
In several of the cases involving men as victims, Detective Tucker found the abuse occurred regularly with women being the aggressors, often hitting, slapping, punching, and using violent objects to gain power or control of the situation. This has in some instances provoked a physical reaction from the man.
"I recently had a case where a man was provoked by his girlfriend. She had slapped and pushed him and he ended up putting her in a choke hold. It left a bruise on her neck. When he came in (at the police station) I said to him 'Why didn't you walk away when she was giving you a hard time, while you were on the phone with your baby's momma?' 
With a situation like that, unfortunately society is going to side with the female because that is what historically happens. In that case men should just walk out and get out of the situation," Detective Tucker told Tribune Woman.
"In another case the couple were fighting over a cell phone. The girlfriend told her boyfriend 'Who are you texting, who are you talking to?' and they got into a fight and she ended up stabbing him in the rear and he left the house. It was actually the neighbour who called 911, and he was not even going to report it."
"When he went to the hospital he realised it would cost money, so he was going to go to a friend that works in the doctor's office. What ended up happening is that the police came out and they spoke to the female and they only got her side of the story. The guy ended up coming back to the station and told his side of the story. When we put it together we found out that she was the aggressor and she was the one who went to jail. She confessed to it. But we would have never known about that if the neighbour did not call 911. He heard the whole thing and he saw him running out and saw blood on his back," she said.
Like violence against men, domestic violence in homosexual relationships also goes under reported, Detective Tucker said.
"In South Florida, we have a huge gay and lesbian population. We are starting to work towards that so that we can streamline this kind of domestic violence. It is not only woman and man, it is men and men, and women and women.
"This is happening. It is happening in the homes and it is just that people are not reporting it because they are ashamed and they are embarrassed not only because of the incident but the fact that, if they report it, they have to report their lifestyle. For a gay man to say 'You know I am being abused by my boyfriend?' and at the same time say 'Oh I am gay' that is another hurdle you face with law enforcement. Police officers are not the sensitive, touchy, feely type. Some are but some are not. So it is kind of hard for some to come up to a man in a uniform and tell them that," she told Tribune Woman.  
Detective Tucker said it is important that the word about domestic violence and services that are available reaches members of the lesbian and gay community.
"We have educate people and let them know that the times are changing, society is changing, and we have to change with it," she said.