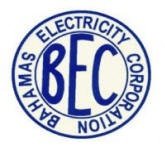 By SANCHESKA BROWN
Tribune Staff Reporter
sbrown@tribunemedia.net
BEC employees will have less of a Merry Christmas this year, as the Corporation has decided to "defer" Christmas bonuses because of "financial constraints", The Tribune understands.
In a letter dated December 9, 2013, addressed to General Manager, Kevin Basden, Corporation Chairman Leslie Miller said after careful consideration, the corporation has decided not to pay Christmas bonuses this year, but will do so when the company "finds itself in a better position".
"Please be advised that after careful consideration of the financial situation which this Corporation presently finds itself in, it has been decided in full concurrence with the Hon. Phillip Brave Davis, the Minister responsible for the Corporation, that the proposed 2013 Christmas bonuses for Executive Management, Middle Management and Junior Staff be deferred until such time as the Corporation finds itself in a better financial position," the letter said.
This deferral will enable us to live up to our financial obligations for the procurement of fuel, supplies as well as other financial obligations. I am sure we all agree that these tough economic times affect the lives of each and every Bahamian. It is therefore fitting that the personnel at BEC appreciate the current state of affairs and act accordingly. I, therefore, request that you immediately impart this information to all concerned."
Speaking with The Tribune, President of the Bahamas Electrical Workers Union, Stephano Greene said as far as he in concerned employees are still getting their bonuses because "Leslie Miller cannot stop this."
"The union," he said, "has not agreed to anything, so far all they have is a memo from Mr Miller about the bonus being deferred, but the union knew nothing about it. The issue of Christmas bonus is in our contract and that is binding no one person can change the terms and conditions. If it is to be changes, both parties have to agree and we have not and will not.
"Bonuses are to be paid on the 15th of December. It is unfair that days before payday Mr Miller decides he does not want to do it. People have mad plans for their money, do not come to us and say you aren't doing it. Something is wrong with that. Mr Miller is causing crime to happen because if they can't get their bonuses the only thing they can do to get the money is rob."
Mr Green said if they are not paid the bonuses they will have no other choice but to take "legal and industrial action".
He said he is waiting on official word from Acting Prime Minister Phillip "Brave" Davis before they make their next move.
This announcement comes after Prime Minister Perry Christie said the government will "outlaw" double-dipping at the corporation.
Last week, Mr Miller said the government has decided that employees from all government corporations and departments will no longer be able to collect their full salaries and National Insurance sick pay benefits, effective March 1, 2014.