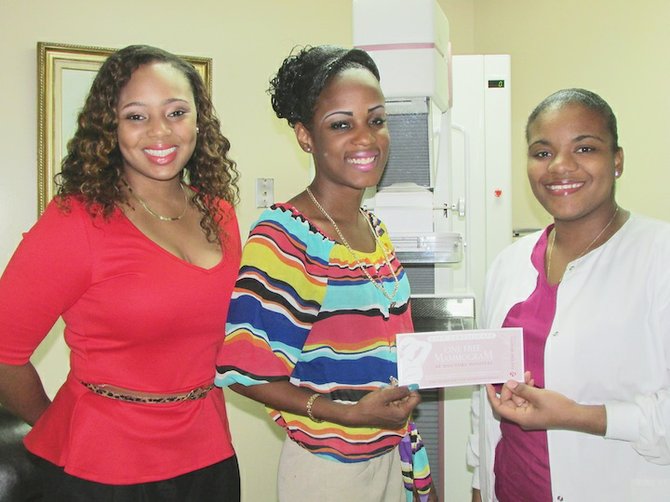 WHEN Doctors Hospital was asked to donate a free mammogram to be used as a prize for the Bahamas Beauties Against Cancer social media contest, the hospital immediately seized an opportunity to spread its message that early detection is key in the fight against breast cancer.
There was no way of knowing that this donation would lead to a tremendous opportunity to make a difference in one young woman's life.
"We figured most of the young women who entered this contest would be too young to even use the prize, but they all have mothers and aunts and grandmothers and older friends so we jumped at the chance to use this vehicle to spread the message of the importance of mammography and early detection in saving women's lives," said marketing director Jessica Robertson.
Unless there is a strong and direct family history of breast cancer, standard protocols in the Bahamas state that women should begin having a mammogram each year once they turn 40.
The winner of the contest was Felicia Archer. She entered the contest as a way of paying tribute to her friend Petra who died of leukemia at the age of 18 and to another friend who died not long ago from intestinal cancer.
"This fight is also important to me because one of my spiritual mothers to me who is my cheerleader, biggest supporter and my inspiration recently found out at a young age that she has breast cancer.
"But together we are determined that with God she will overcome this obstacle and be a survivor. She is all I have left and I fight for her and the many others that are affected by cancer," she added in her entry.
At just 20 years old, Felicia was not an obvious candidate for a mammogram, but it turns out that winning this prize was about to prompt her to have some necessary medical testing done.
"We got talking to Felicia when she came in to collect her mammogram gift certificate and learned that two years ago, she'd undergone a biopsy for what turned out to be a benign lump in her breast," says Ms Robertson.
As they continued talking, Felicia revealed that she had recently discovered what she thought might be another lump and that it was painful.
Doctors Hospital imaging technologist Derecka Wilson-Richardson took the time to explain the various diagnostic tools to Felicia and explained that in her case, the test needed was a breast ultrasound.
"Although the ultrasound is a more expensive test than the mammogram, we knew once we heard her history that Felicia needed something other than what we had donated and so we offered to give her the test she truly needed," said Ms Robertson.
Felicia was advised to make an appointment with her primary care physician as soon as she could and the ultrasound was scheduled soon after.
"Thankfully, Felicia reported to us that her results came back clear and that there were no abnormalities detected with the breast ultrasound test," said Ms Robertson, adding, "it was so wonderful to learn that Felicia came through all of this with the best results possible and we salute her for sharing her story to bring more attention to the need for screening to prevent breast cancer in Bahamian women."
Doctors Hospital's comprehensive Digital Imaging Department enables patients to have a full range of testing depending on their needs. In addition to the Hologic Selenia full-field digital mammography system and the only 3-D Automated Breast Ultrasound machine in the Bahamas, Doctors Hospital has the ability to offer patients a breast MRI which is extremely useful in cases where there is either a high risk because of a woman's family history or where initial screening shows a questionable lesion requiring additional scrutiny.