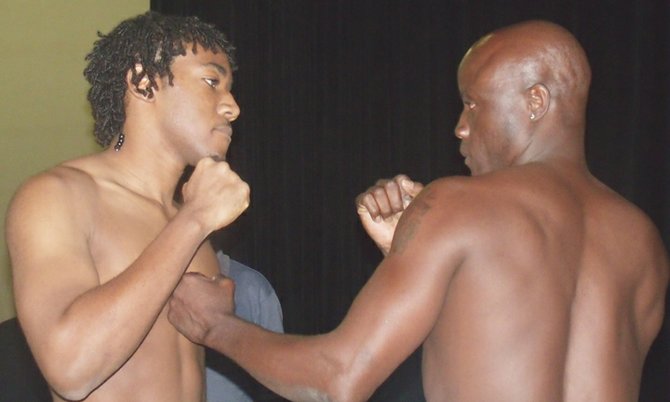 By BRENT STUBBS
Senior Sports Reporter
bstubbs@tribunemedia.net
When Lester Brown Jr meets Dencil "Death" Miller on the undercard of the return of professional boxing to the Bahamas, it will be a battle of youth versus experience.
Brown, who made his pro debut with a first round knockout win over Anton Ward during the last show on February 4, 2012, at the Kendal Isaacs Gym, is slated to take on Miller, who suffered a third round TKO at the hands of Richard 'The Hammer' Pitt on the same card. The loss dropped Miller's record to 1-5.
After topping the scale during the weigh-in conducted by referee Alvin Sargent of the Bahamas Boxing Commission on the eve of tonight's show in the Rain Forest Theatre at the Wyndham Resort, Brown Jr said he's confident that he will keep his winning streak alive.
"I'm in good shape for this fight," he said. "I'm ready to fight. You can expect a good performance. I'm coming out to entertain the crowd. Expect a knockout. I can't predict which round, but expect a knockout."
For Miller, whose only victory came over John 'The Beast' Wesley with a second round TKO in 2011, said he's looking forward to taking on the youngster.
"I'm coming out of retirement just to take this fight," Miller said. "I try to do whatever I can to help improve the state of professional boxing. So I want to give him a chance to fight a veteran fighter like me. I'm not afraid of him. Once I see an opening, whether it's the first, second or third round, I'm going in there to execute."
Also on the undercard will be an all-American showdown between Mike Sawyer and Alex Perez as they make their return to the Bahamas. For Sawyer, his initial trip was on vacation. Perez' last appearance here was in the ring against Meacher 'Pain' Major.
"I'm looking for a good fight. The Bahamas always puts on good shows. I remember the last time I been here to fight," said Sawyer, who recalled how he got caught by surprise with a vicious left hook from Major that sealed his fate. "I'm ready for a good fight. I'm going to give the crowd what they want and I'm going to get my victory."
Perez, who comes out of Florida, said he's not concerned about Sawyer. He will be prepared for whatever happens when they step into the ring tonight.
Originally from Virginia, Sawyer said he brought a boxing gym in Orlando, Florida, about a year ago and he restarted his boxing career about six months ago.
"He's a veteran fighter. He's cagey, so I'm going to keep him on the outside," Sawyer said. "I'm going to box. I'm not going to let any of his boxing tactics get in the way. I'm younger and I'm stronger and I punch harder so I'm going to control the pace and keep him on the outside."
As the fighters went through the weigh-in process, workers were busy putting the finishing touches on the ring inside the theatre.
Ronn Rodgers, one of the promoters for the show along with Tommy Stubbs of Buttons Formal Wear, said it's just a matter of time now.
"Things are looking great. The fighters are now in, they look fit and the stage is being completed, so we're looking forward to fight night," he said.
"It was extremely difficult getting this off the ground, but now we're down to the wire and everything is falling into place. We just have the ring to finish and we will be ready to go."
Rodgers said they are encouraging the public to come out and watch the amateur boxers from his Strikers Boxing Club perform.
"These are some of the boxers that we hope to see at the next Olympics," he said.
"They only have about two years to go now, so this is the opportunity for the whole Bahamas to come out and watch them perform. We want the public to see what they are doing, so we can get some sponsors on board to assist them over the next two years."