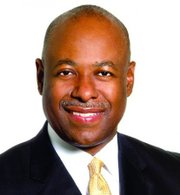 By RASHAD ROLLE
Tribune Staff Reporter
rrolle@tribunemedia.net
TOURISM Minister Obie Wilchcombe yesterday said the United States "will have to appreciate" the efforts the Bahamas government is making to help curb crime in the country.
His statements come four days after the US Embassy in Nassau issued an email warning American citizens living and travelling here to be on the alert for crime.
The email cited three incidents within the last year where American visitors were robbed and it referred to last week's robbery of Deputy Prime Minister Philip "Brave" Davis as an example of the country's worrying crime situation.
The warning came despite government reports of an overall decrease in criminal activity this year when compared to last year.
In response, Mr Wilchcombe said: "The Americans will issue the warnings, it's their choice; they will do what they want and what's in their interest. We can talk to them. We have to develop our relationships and I think Americans will have to appreciate that we are making efforts and are making a dent in the crime problem.
"We don't have to worry about (their warnings)," he continued. "We have to fix the problems at home. The Bahamas must address the issues. Our job is we must engage ourselves in a national campaign that calls for leaders in the community to go out there and speak. We could kill all we have built in this country if we don't move away from the image of being a country that has a lot of crime. Many countries that have sought to strengthen their tourism industry have staggered because of the reputation that they are associated with crime."
Mr Wilchcombe added that the media must do its part by not making criminals look like heroes.
"We have to get the media involved," he said. "Why is it that we have to give criminals headlines? I understand the story has to be written but why show their picture? Why are we making them heroes so they could celebrate that they are on TV or in the newspaper?"
He said: "We have to use some voices, some voices like Myles Munroe, Neil Elis, the president of the Christian Council, bishops of the Anglican church. We have a deficit of love in this country. There is a lot of hate; we need some love."