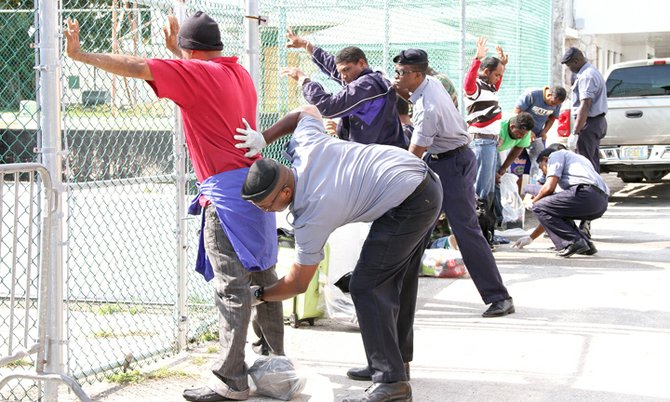 By SANCHESKA BROWN
Tribune Staff Reporter
sbrown@tribunemedia.net
THIRTY-THREE Dominicans, suspected of poaching, evaded capture by the Royal Bahamas Defence Force over the weekend after they were spotted fishing illegally in waters near Cay Lobos.
According to Defence Force officials, the poachers were a part of a group of 50 who have been fishing illegally in Bahamian waters since last month. Captain Tellis Bethel, Deputy Commander of the Royal Bahamas Defence Force, said RBDF officers arrested 17 Dominicans on a 70-foot fishing vessel, but the 33 poachers who were on smaller skiffs, headed for the Cuban boarder to avoid capture.
"They headed south
toward Cuba in the old Bahama Channel, but we have gotten reports from the Cuban Boarder Guard that they had apprehended 33 persons. Now it will be an issue for Foreign Affairs in terms of what will take place now, including advice from the Attorney Generals Office," he said.
"But getting the other poachers and their boat here to the capital took us a day's journey. We had to bring it from the area of Cay Lobos, some 100 miles south of New Providence and we had shallow waters so we had to wait for them to rise to allow the vessel to enter our harbour. There was a large amount of fisheries resources on board so we have Immigration as well as Fisheries officials here to process the Dominican fisherman. The next course of action will be for them to be transported to the Detention Centre to be processed by Immigration authorities and Fisheries authorities. The Fisheries authorities will be pressing charges if they find them culpable of violation of our fisheries laws."
Captain Bethel said it was too early to say how much the confiscated fish and crawfish were worth, but, he said, it was a "significant find."
This latest arrest of poachers is the first for the RBDF since 2011. Captain Bethel said they will continue to maintain a great presence in that area to discourage any more poachers. He also discouraged Bahamian fishermen from approaching the poachers – as they tend to be violent.
"There have been some complaints by Dominican fishermen against Bahamian fishermen. We ourselves have had some encounters to some extent, but we strongly advise local fishermen not to engage in any conflict at sea with them and to allow authorities to address the issue for their own safety and well being."
He said the RBDF will continue to keep a "watchful eye" for poachers as well as illegal immigration, drug trafficking as well as continue their search and rescue efforts.
Last October, a delegation, headed by Foreign Affairs Minister Fred Mitchell, met in the Dominican Republic with Dominican officials specifically on the issue of their citizens fishing illegally in our waters.
On his return to Nassau, Mr Mitchell said that the Bahamas government believed that it had "an obligation to ensure that we used diplomacy as the first line of defence."
He said that Dominican Republic President Denilo Medina had pledged that the Bahamas' poaching problems would be addressed.
When he returned last October from the "diplomatic" talks with the Dominicans, Mr Mitchell said that a $200 million investment would have to be made to better equip the Defence Force to patrol our borders.
Also Minister V Alfred Gray, who was a part of last year's delegation, said they would "look for" the Attorney General to amend the Fisheries Act to increase the penalties for poaching from $5,000 to $250,000 and 25 years in prison.