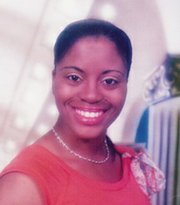 By JEFFARAH GIBSON
Tribune Features Reporter
jgibson@tribunemedia.net
BAHAMIAN author and educator Audra Tynes' new book is an extension of classroom lessons. Her new book "In Times Like These" further addresses the importance of self value and the effects of violence.
In Times Like These is a short Bahamian drama tracing the journey of a grandmother and her teenage grandchildren. The book focuses on themes such as low self esteem, violence, negative company, the media, parenting, and faith in God.
Ms Tynes celebrated the release of In Times Like These during a book launch held last week, which featured various presentations by various literary artists.
"One of those persons who presented during the book launch was Claudette "Cookie" Allen and she shared a folk tale and her passion for Bahamian folk tale and literature," she told Tribune Woman.
Ms Tynes has taught English Language and English Literature at R M Bailey Senior School for several years. She said her experiences in the classroom influenced the book in more ways than one.
"One of the main reasons I wrote the book is because I am trying to reach our Bahamian young people. Dealing with students on a daily basis I have seen an increase in them bleaching their skin and doing things that are symptomatic of self esteem issues. These things show they are not satisfied with the way they look," she said.
"Another issue that is so prevalent is the issue of violence. When they read I want them to see how senseless violence is, how destructive it is and that it affects more than the victim because it can ruin the prospects of the perpetrators as well," she said.
The theme of low self esteem is brought across through the main characters, specifically the teenage girl. The grandmother lends support and encourages the teen throughout the drama to help her overcome her issues.
In Times Likes These is Ms Tynes' second self published work. Her previous book was a collection of short stories and poems.
"I am hoping the book inspires and encourages people to be proud of their Bahamian heritage because it is a Bahamian drama, and I have incorporated some Bahamian elements in the book as well. I hope the issues that are addressed in the book gets people thinking and inspires some change.
"I wanted to write something that would have a positive influence on the young person who would read. Generally speaking I wanted to encourage and motivate young people in particular to enjoy reading and that is the reason why I chose those themes that are relevant to them," she said.