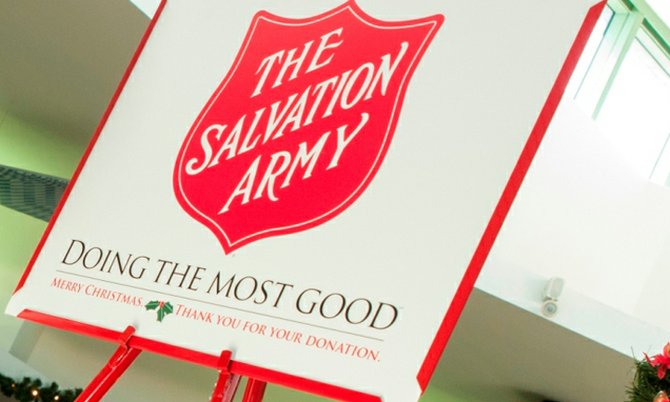 By SANCHESKA BROWN
Tribune Staff Reporter
sbrown@tribunemedia.net
DESPITE a decline in donations from previous years, Salvation Army representatives say they will continue to spread the message of "hope and love" to the thousands in need, this holiday season.
Speaking with The Tribune, Divisional Commander, Major Lester Ferguson, said they are "concerned", but not worried about the decline in donations because they have hope they will be able to spread the true message of Christmas – even if they do not have the physical gifts they had in past years.
"The reality is the meal and kettle drive donations are down but we know that most non profits are not doing too good right now, everyone is feeling the pinch. While it may mean scaling back on some of the things we want to do, we will still be spreading hope and love to those in need," he said.
"Christmas is all about celebrating hope, life, love and the birth of Christ. We will find something to give them. We know it takes funds, but we will find a way. We will still do our lunches and visits to the hospital. We have 3,000 regulars who come every day and they will get a gift voucher or turkey voucher, they will get something. We still have hope that people will give generously, we have people who have pledged gifts, so we know we will make it. God will see us through."
Last Friday, Salvation Army representatives said they were experiencing their worst Christmas season to date, with few donations and no toys, food or clothing for the hundreds of families in need.
Marsha Deveaux, head of Community Relations and Development, said the Salvation Army has received more than 5,000 requests from people needing assistance – almost double last year.
"We are looking at about 5,000 plus people we have to feed and help. That ranges from the elderly to the sick and shut ins and the different boys and girls homes throughout the island, but we have nothing to give them. We are at the peak of it right now, receiving hundreds of calls a week from people needing our help, but we just do not know how we are going to do it," she said.
"We have fewer people volunteering for the Kettle Drive, fewer donations, but more people needing help. The numbers are continuing to grow, but we do not have the assistance, even our food parcels are down. We are living by faith right now because we need at least $300,000 to pull this off. We are looking for volunteers for the Kettle Drive, even if it only brings in $50 a day, that's $50 more than what we had that morning. We are writing hundreds of letters requesting sponsorship, but for every 100 we write we maybe get a response from 10."
Mrs Deveaux said they are asking for donations of any kind, but food and clothing are top priority. She also said for the first time in years, this year they have no toys to give the hundreds of children who only receive that one gift.
Since the publication of the story on Saturday, Bank of the Bahamas (BOB) has pledged to use its branches as drop off centres to "donate much needed food, clothing and toys to help the Salvation Army feed, clothe and bring cheer to families in need this Christmas."
In a statement,the bank said customers and members of the general public can put items in boxes provided at any of the five BOB branches in Nassau: Shirley St Branch, Thompson Blvd. Branch, Harrold Road Branch, Village Road Branch, Carmichael Road Branch and two BOB branches in Grand Bahama: Freeport and Eight Mile Rock branch.
Laura Williams, Manager, Corporate Affairs for Bank of The Bahamas Ltd. said the bank is expanding its in-house charity drive to include the public following news that donations to the Salvation Army are down while requests for assistance are up this Christmas.
BOB customers and the public can drop off donations at any of BOB's five Nassau branches during business hours from Monday, December 16, through Friday, December 20.