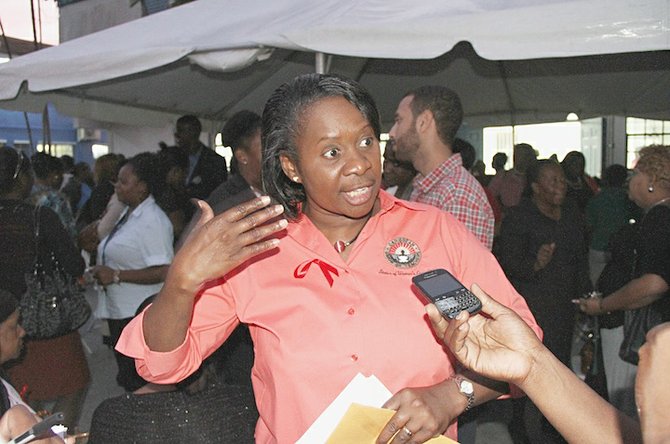 By RASHAD ROLLE
Tribune Staff Reporter
rrolle@tribunemedia.net
TEACHERS have withdrawn their threat to go on strike against the government until further notice, but they will remain on work-to-rule until their issues are 100 per cent resolved, Bahamas Union of Teachers president Belinda Wilson said yesterday.
Her comments come two weeks after most teachers said "yes" to taking a strike vote.
They also come a week after Ms Wilson said an important meeting with Labour Minister Shane Gibson resulted in all but two of the union's concerns being addressed.
She said the government's quick response to their strike threats proves teachers were right all along and that the law is on their side.
Noting that teachers have requested to remain on work-to-rule, she explained: "Simply, they don't trust them. It's a trust factor because they were promised before and the government did not do."
She said the government, between this month and next June, has committed to paying teachers the more than $4 million owed to them.
And as for newly posted Family Island teachers, she said the government has promised to give them their rent money for September, October, November and December this month.
She also said teachers who participated in a protest on September 9th will not face pay cuts and that those who believe they were wrongfully transferred can now apply for reassignment.
Health concerns at Stephen Dillet and Uriah McPhee primary schools are being addressed by the Industrial Tribunal, she said, adding that the union has yet to receive a report on the conditions of those schools from the Ministry of Education.
She added that union executives have been given access to school campuses, but that they are not yet able to hold lunch and break-time meetings at schools.
She said she will soon meet with Mr Gibson to discuss the issue and that if it isn't resolved in the union's favour, she will take the matter to the Supreme Court.
"From September to now, when we go to the campuses the security used to run and lock the gate. Now we are able to go to the campus without any hassle except two of my officers had to wait almost an hour to get into Anatol Rodgers last week. What we want is what we usually have, to be able to meet during break-time and lunch time."