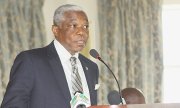 By AVA TURNQUEST
Tribune Staff Reporter
aturnquest@tribunemedia.net
DEPUTY Prime Minister "Brave" Davis should have had increased security, according to Prime Minister Perry Christie, who said that in hindsight the government is now considering heightened police coverage for officials.
Yesterday, National Security Minister Dr Bernard Nottage clarified that police were ultimately responsible for any decision to increase security detail for government ministers.
In the aftermath of the armed attack on then acting Prime Minister Philip "Brave" Davis and his wife, Anne Marie, Dr Nottage said changes to security detail would come upon recommendation from the police.
"The deputy prime minister ought to have had security, in hindsight the answer is yes, he should have. When former Deputy's acted, it never occurred, it never came up, right now the Minister of National Security, the Deputy Prime Minister, the Attorney General, because of the nature of their positions, they have security detail assigned to them, but none at night, that's only for the Governor General or the Prime Minister not even former PM."
"They all have security, but those people go home at night only the prime minister and the governor general in their position have people 24 hours," he said.
Their comments follow claims by Commissioner of Police Ellison Greenslade that police were not responsible for making the final decision on static guard duty for ministers, and could not be faulted for their absence during the incident.
Yesterday, Dr Nottage said: "The protection of government officials is the responsibility of the Royal Bahamas Police Force.
"Obviously the assessment of statesmen security wouldn't be up to politicians. We will have to depend on information from the security agency, the police, to tell us what risks there are and what they regard as the measures that are necessary to be taken to minimize that risk. We would again have to approve that activity, but the evaluation of what is needed clearly would be expected from the Commissioner of Police and his men."
Dr Nottage refused to confirm whether or not such a recommendation had been made by the police force, adding that he would not openly discuss matters of national security.
At a press conference last week, Mr Greenslade explained that his department could not take the blame for the absence of police officers at the Davis' home at Westridge when the armed robbery occurred.
According to National Security Minister Dr Bernard Nottage, police aides "had not arrived to work yet" when the armed thugs drove up to Mr Davis' residence, accosted his chauffeur and held the deputy prime minister and his family at gunpoint on December 9.
Despite stating that he would not be defensive on the issue, Mr Greenslade said it was "not the responsibility of police authorities to ensure that the then-acting prime minister was assigned an armed security detail", adding that police could not be "held accountable for something that is certainly not within its purview". 
Mr Greenslade said: "As a Commissioner of Police, I understand that the police is the anvil upon which society beats out their frustration.
"Someone has to be blamed. If the Commissioner is an easy target then you take a shot at the Commissioner. The Commissioner is not going to be defensive."
He said: "When you speak to the issue of 24-hour coverage, we refer to that as static guard duties at a residence, those are issues that are handled at a much higher level.
"No fault can be found in this instance with the police department."
Yesterday, Dr Nottage explained that static guards have traditionally been reserved for the prime minister, adding that he was surprised by public commentary calling for heightened security given the traditional sentiment from Bahamians that politicians have too many privileges.
Dr Nottage said: "The decision about whether security is required is made by the professionals and that is the Royal Bahamas Police Force. Now when the resources have to be provided that matter might be referred to either myself as Minister of National Security or the prime minister but we're not security specialists, we're politicians. If it is referred to us that there is a certain level of security is needed then we would have to approve or not approve it."
Mr Christie added: "We are looking at it now, it is something we have to do. Happily it very much appears that [Davis' armed robber] was a happenstance kind of thing, where they were just looking for someone to rob, a home to go into and they did not realize what they were doing. But everything in process, we have to be relentless in our assault on criminals in our country. We cannot compromise on that."