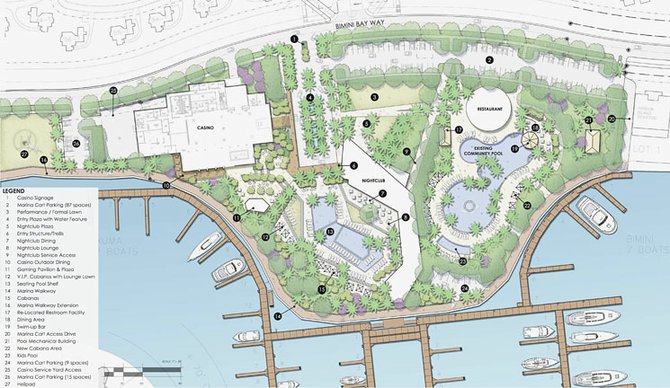 THE company seeking to build a controversial cruise ship terminal on Bimini has revealed that its "entire operation is in peril" as a result of the US government banning a key aspect of its business model due to alleged immigration violations.
Court documents exclusively obtained by this newspaper reveal how Genting's Miami cruise ship service, and its investment in the Bimini Bay Resort and expansion, billed as creating 500 new Bahamian jobs, have been jeopardised by US Customs and Border Patrol's (CBP) decision to ban the vessel's night-time sailings.
The filings in the US District Court for Columbia, Washington DC, where Resorts World Bimini and its affiliates have launched a Judicial Review-style action challenging CBP's decision, make clear their Bimini development model cannot survive without the revenues produced by their cruise ship's night-time excursions.
While the Bimini SuperFast's daytime sailing to and from Bimini are unaffected, the documents reveal that Resorts World has also been using the vessel for night-time excursions into international waters.
Passengers sail out from Miami for gambling and partying on the high seas until dawn, thereby generating a revenue stream that Resorts World admits is vital to sustaining its entire $275 million investment in both Bimini and south Florida.
The court documents make clear Resorts World's business model could collapse as a result of the night-time sailing shutdown, which CBP has imposed under the US Immigration and Naturalisation (INA) Act.