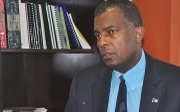 By AVA TURNQUEST
Tribune Staff Reporter
aturnquest@tribunemedia.net
FOREIGN Affairs Minister Fred Mitchell yesterday hit back at critics of his support for gay rights in the Bahamas.
Likening his struggle to that faced by the late anti-apartheid icon Nelson Mandela, who opposed his colleagues in the fight against HIV and AIDS in South Africa, Mr Mitchell charged that "it is never too late to do the right thing, to stand up for the rights of all people."
He noted that under the former South African president, the country legislated one of the most protective constitutions in the world that outlaws discrimination based on sexual orientation.
"[Mandela] forced the South African government to provide the medicine and to take the fight seriously," Mr Mitchell said. "They had refused. They did not believe the science. Mr Mandela went into an ANC meeting and called out the Council on the issue.
"I think of this today as we hear from some of people who have attacked me in this country, religious and civic leaders saying I am pushing a gay agenda in the country.
"These same people," he said, "who condemn me, but now praise Mr Mandela, forget that he ushered in a constitution in South Africa that is perhaps the most protective in the world, where sexual orientation is amongst the list of characteristics for which there can be no discrimination in South Africa. Mr Mandela did that. Some in this country would have us go backward."
In a recent report on homophobia in the Commonwealth, UK based charity Kaleidescope Trust outlined recent developments in the country towards ending discrimination based on sexual orientation.
Titled "Speaking Out", the report also featured testimony from human rights activist Erin Greene, who was identified as a longtime victim of crime and discrimination as a member of the lesbian, gay, bisexual and trans (LGBT) community.
Ms Greene said the government does not have the capacity to record instances of crime, violence and discrimination against the LGBT community, despite repeated attempts by members to report incidents.
Although homosexuality was decriminalised in 1991, there is no legislation to protect against human rights violations on the basis of sexual orientation or gender identity in the Bahamas.
The Constitutional Review Commission determined that there was no need for such protection in 2006; however, when formed this year, the body petitioned for explicit, limited protection for the LGBT community.
The 2013 commission maintained that provisions should be limited in order to circumvent the argument for same-sex marriage as a constitutional right; however, Chief Justice of the Supreme Court Michael Barnett told lawyers in June that Bahamian courts will have to address the issue "soon."