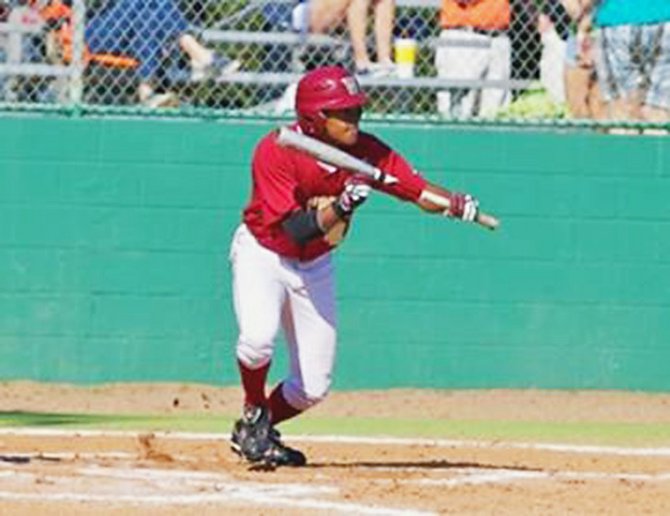 By BRENT STUBBS
Senior Sports Reporter
bstubbs@tribunemedia.net
CHRISTMAS came a little early for Dario Saunders, who will get to live out his life-long dream of playing professional baseball, after he signed a Minor League Baseball contract with the Cincinnati Reds.
The deal was made possible from the recent showcase that was held by the Bahamas Baseball Federation in Grand Bahama and New Providence over the weekend of November 9-10 with James William Stoeckel, the Reds' global coordinator and Fermin Coronel, their Curacao consultant.
Since then, Saunders says the Reds have been in conversation with him up to December 6 when they made it official.
"I feel great about the opportunity," said Saunders, who is currently in Nassau but will be leaving shortly for Grand Bahama to resume his training. "I feel happy about it. It was unbelievable. It was a dream come true. They were talking to me for about a month leading to the date. So when they told me they are going to sign me, I was really pleased."
The Reds are expecting to send the 20-year-old five-foot, 10-inch out-fielder who can also play doubles to their Baseball City Complex in Boca Chica, Dominican Republic where he will participate in their summer developmental league starting in April.
"It means the world," said Saunders, who was just elated to be playing professional ball. "It's always been a dream for me as a kid playing baseball to play professionally and finally it came true."
Having started playing at the age of seven in the Little League in Bimini, Saunders went on to improve his game with the Legacy League in Grand Bahama. He then decided to go to Wekiva High School in Orlando, Florida where he excelled and played under the radar by the Reds.
In a press release from Vero Beach, Florida, Stoeckel said the Reds are pleased to sign the 165-pound right hander.
"Dario played on numerous Bahamas national youth teams growing up and attended Wekiva High School where he played for Eric Entrekin, now the coach at Lake Brantley High School in Florida," Stoeckel said. "Dario came to the Reds attention at their November Nassau-Freeport workout where he ran a 6.6 second 60-yard dash and threw 91 MPH from the outfield."
In preparation for the trip to the Dominican Republic, Saunders will be working out with Jervis Stuart Sr, a pro player for the Orioles, who has been Saunders' coach since he began playing baseball. Stuart, a former pro player with the Orioles, is also Saunders' uncle.
"They just told me to get in my swings, just keep swinging the bat and be in condition," said Saunders, who is eager to resume his training with Stuart, whom he credits for his genesis in the sport.
"I just have to work hard day in and day out and stay focused on what I have to do."
To those players who want to follow in Saunders' footsteps, he offered these words of advice:
"Just stay humble and keep pushing towards your dream. Don't let anybody try to keep you down. People who say you can't do this and you can't do that. Most of the people who are discouraging you probably couldn't fulfil their own dreams. You just have to keep pushing yourself."
Saunders publicly thanked his coaches, especially Jervis Stuart, Brian Armbrister, the federation and secretary general Teddy Sweeting as well as his parents - Faye and Deigo Saunders and his second mother, Cecily Stuart, and all those who supported him in making his dream a reality.
"This is my Christmas gift. I'm going to enjoy this Christmas," he said. "The celebrations will have to handle itself because I have to get back to work and work even harder than I've done before. But this will be a special Christmas. I'm going to get to do something that I always dreamed of doing."
Saunders' signing comes on the heels of three recent division one baseball national letters of intent signings, leaving the federation excited about the future of its programme, having had a chance to watch the development of the players since its formation more than a decade ago.