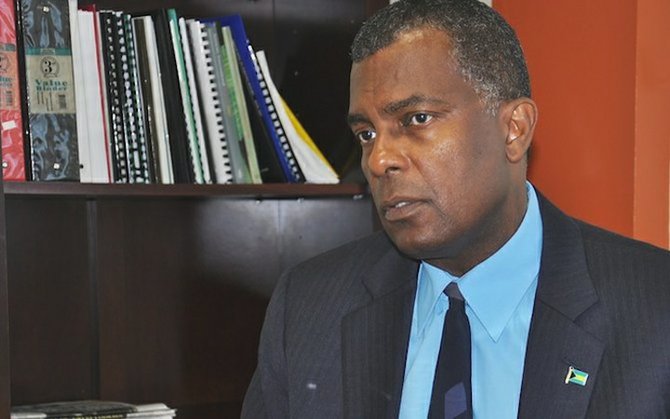 FOR the second time in a week, Foreign Affairs Minister Fred Mitchell publicaly declared his support for the gay rights cause, calling it part of the ongoing fight against all forms of injustice around the world.
Speaking at a church service for Nelson Mandela yesterday, Mr Mitchell said although it faces much local opposition, the Lesbian, Gay, Bisexual and Trans-gender (LGBT) movement is part of the universal struggle against discrimination symbolised by the beloved South African leader.
"With today's service," said Mr Mitchell, "I think the anti-apartheid movement in the Bahamas comes formally to an end. This fight is over. That war is won.
"But the struggle continues on other fronts, to defeat injustice and prejudice of every kind wherever it is and even in the face of unpopularity like today's unpopular LGBT cause."
Praising the life and achievements of Mr Mandela, the minister urged those in attendance at St Gregory's Anglican Church to "Fight for peace. Pray for peace. Live for tolerance. Fight prejudice."
Speaking about the role of the Bahamas in the fight to free Mr Mandela from prison in the 1980s, the minister said the struggle against South Africa's apartheid regime was an "easy fit" for this country.

"We had been raised in a society which had informally inculcated the same thing: separate entrances for blacks and whites; discrimination in housing and in work based on race," he said. "Of course it was similar but not the same.
"In 1948, the apartheid regime in South Africa started to put in place a set of laws which made it impossible for black people to live and work anywhere in South Africa without carrying a pass.
"This led to the Sharpsville massacre of 1961 when unarmed protestors against these pass laws were shot down in the streets by the South African police which event catalysed Nelson Mandela into the armed struggle.
"He was later convicted in 1964 and served in prison for 27 years until he was freed unconditionally in order to bring about peace in a country that was by then facing a civil war.
"He became president and led the country after the first democratically held elections in its history from 1994 until 1998. Then he walked away.
"After he left office his causes continued including the fight against HIV and AIDS to which disease he had lost a son.
"Today we see him as an icon and visible sign of what a man can accomplish from humble beginnings by dint of hard work and perseverance and providence.
"He is an example of tolerance, of the fight against prejudices of any kind, to accept all people for what they are."