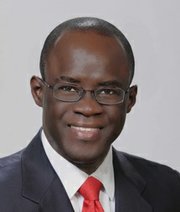 By KHRISNA VIRGIL
Tribune Staff Reporter
kvirgil@tribunemedia.net
FNM Chairman Darron Cash has demanded that the Christie government set the record straight as to its relationship with The Genting Group, developers of Bimini.
According to Mr Cash concerns arising from the multi-million dollar project have fallen on deaf ears, which he believes is the result of allegations that Genting supported the PLP during the 2012 general elections.
Genting's Miami cruise ship service, and the investment in the Bimini Bay Resort, which is expected to create about 500 jobs, continues to be steeped in controversy with environmental concerns at the heart of the matter.
Environmentalists say that plans to construct a 1,000 ft dock extending west off North Bimini's beaches and the creation of a large man-made island offshore, will be catastrophic.
More recently, it was revealed through court documents that the entire operation was in peril because of the US government's decision to ban the vessel's night-time cruises.
"The question is, exactly how much money did they receive from Genting to fund their 2012 general election campaign?
"Someone from the PLP's camp must explain why they have abandoned their own people in Bimini who have expressed numerous times their discomfort with the project. But no one seems to care. It seems this government has no clue where to turn and have been paralysed because they know all of the promises they made to these people."
However, party Chairman Bradley Roberts categorically denied that the PLP received any financial support from Genting.
"Come on man," Mr Roberts said, "Genting was nowhere even near the Bahamas. So his comments are completely asinine. They gave the PLP no money during the elections. Where was Genting during the elections?
"I wonder if Darron Cash needs his head checked out. The man is just spewing nonsense in an attempt to get on the front page of the dailies."