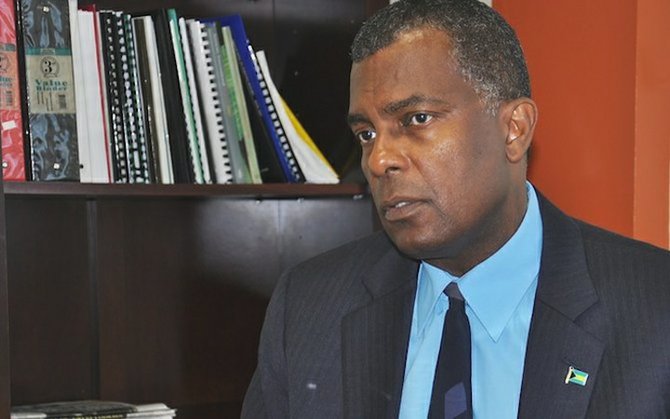 By SANCHESKA BROWN
Tribune Staff Reporter
sbrown@tribunemedia.net
IMMIGRATION Minister Fred Mitchell said yesterday the Government is considering introducing a National Identification Card as well as charging persons who knowingly hire illegal immigrants in an effort to deal with the country's long standing illegal migration problem.
Mr Mitchell said in 2014 the issue of immigration will be "front and centre" on the government's agenda.
"I cannot make that decision, the question of a nation identity card is an issue which has been mooted and is a discussion point. The technology is certainly available to do it, particularly since you already either have to get a passport or a national insurance number. So the technology and the infrastructure is there to do it, but the question of whether we go that route is a matter for the Cabinet and not for me, but there is certainly going to be recommendations made given the way the pubic is complaining about this issue and some of the measures may be far reaching and will require new thinking on the part of Bahamians on how we conduct our business and the civil liberties which we enjoy," he said.
"To me the most intrusive one is the question of 'do you have the right to be here' and 'how you prove that right', you can only prove it if you have a document which says you have a right to be here. So people will get use to the idea of carrying around some documentation that shows you have a right to be here so when these immigration checks take place, it shows you are a Bahamian citizen or you have a right to be in the Bahamas."
Mr Mitchell said the repatriations in the last few months has been draining on the Department of Immigration, not just in terms of money but also in human resources
"As you know for immigration during this past year it has been quite a challenging time for us and right now the repatriation is going on of those persons who came in over the last few weeks. Up to last week there were 323 people in the Detention Centre 221 of them are Haitian and they all had to be repatriated.
"So you can imagine how this eats into our budget and I wanted to say that over the next year, you can expect that the issue of immigration will be front and centre and in particular this idea  of making sure that everybody in the country is documented. So people would be able to show they have a right to live and work in the Bahamas and if they don't have that right, then you need to be repatriated to your home country and this will include a review of the laws to see whether or not we have to actually go against employers for hiring people unlawfully, the practice which we already have in place now where we don't grant permits to people who come here illegally and then of course a vigorous enforcement of the border."
Mr Mitchell's comments came after a random immigration check last months saw 105 people arrested, 22 released, $37,000 collected in outstanding fees and 83 people committed to the detention centre.
Immigration officers blocked traffic in Eastern New Providence in an attempt to round up illegal immigrants.
From that search, according to the minister, 75 men and eight women were detained.
There were six Venezuelans; nine Ecuadorian men, two Peruvian women; six Jamaican men and two Jamaican women, 54 Haitian men and two Haitian women.
The officers stopped motorists and passengers and requested that they provide a form of identification.