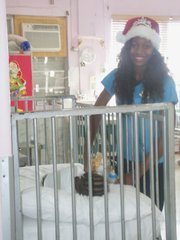 By BRENT STUBBS
Senior Sports Reporter
bstubbs@tribunemedia.net
CHRISTMAS was a little special for the Children's Ward at the Princess Margaret Hospital, thanks to the efforts of quartermiler Shaunae Miller.
On Christmas Eve, the children occupying the various units got a special treat as the six-foot, one-inch, muscular built female Santa Claus came in rolling a trolley full of Christmas gifts. Miller, the 19-year-old 2011 IAAF World Youth Championship and 2010 IAAF World Junior Championship 400 metre gold medallist, accompanied by her parents, May and Shaun Miller and uncle Joel Stubbs presented gifts of doll babies, colouring books and toys to each of the toddlers and children. Each of the children over the age of 11 was also presented with a track and field medal.
Miller, who is home for the holidays from her studies and training at the University of Georgia, said it was always her intention to be able to assist those who can't help themselves and children were her priority.
"I love little kids and I always wanted to be able to come back home and do something special for them," she said. "They have a future ahead of them and hopefully when they get out of the hospital, they will be able to fulfil their dreams."
Miller said she was so impressed with the manner in which the children are cared for on the Children's Ward. She noted that it was encouraging to see how they fit in and make it a homely environment.
"I feel pretty good about what I've seen. The little children blessed my heart and so it was good to be able to come back here and spend some time with them. They all seemed happy in here. They treat them like family. Just seeing the smiles on their faces will stick with me."
The ward, according to senior nursing officer and supervisor, Rebecca Johnson, has about 52 beds for children from birth to age 12. About 30 children were in the ward on Christmas Eve.
"It really means a lot to us because we are so happy when people can come from the community and spend time with the children," Johnson said. "It shows our children that there are people out there who really care for them and it brings cheer to the children who are not as fortunate to be at home."
Johnson said Miller's appearance was also important because they can identify with a good role model.
Miller's uncle, bodybuilder Joel Stubbs, said it was a good gesture for his niece to be able to give back to the less fortunate.
"As you know with all of the turmoil that has taken place in our country, this is something that is really good," Stubbs said. "It's good to see her come here and to try to inspire and motivate those who are depressed because they are away from their home and family. I think it's a very good thing that she has done today and that is why I am here to support her. She's in the initial phase of her journey and I know the country, including myself, is looking for her to excel to higher heights."
As one professional athlete to another, Stubbs said with the proper training and the team that is working along with her, once she can get herself mentally and physically together and put God first, it will only be a matter of time before she prevails as a world champion.
No doubt, Miller's biggest supporters in her quest to duplicate her junior feat are her parents.
Her mother, May Miller, said her daughter always had a passion for helping the children, but she was surprised when she told her what she wanted to do for the Children's Ward.
"I think it was good to see how she reacted with the children," the older Miller said. "The fact that she is still young was important because it meant that she could reach to their level and interact with them the way she did."
Her father, Shaun Miller, was just as elated to share in the moment as they have done in so many other endeavours in the past. "It was a pleasure to come down here and see how she mingled with the kids this Christmas season," said her father, who served as her previous coach before she left for college. "I'm very proud of her."
One parent on hand, Rose Joseph, said it was good to see someone of Miller's calibre come in and spend some time with the children. "That was very good of her to give back," said Joseph, who admitted that while she has never seen her compete, she heard about her accomplishments. "It's very sad that our children are here, but it's good to have people come in and visit them even though they don't know them."