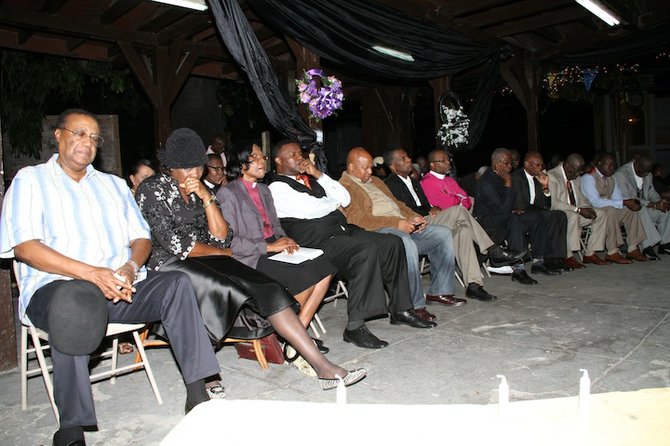 By KHRISNA VIRGIL
Tribune Staff Reporter
kvirgil@tribunemedia.net
HUNDREDS of relatives, friends, and community leaders last night gathered for a prayer vigil after the deaths of four people killed in a drive-by shooting.
The scene was sombre, with loved ones openly sobbing as officials announced the names of the victims who are 49-year-old Eric Morrison, father of two, Claudzeno Davis, 37, Shequille Demeritte, 19, and 30-year-old Sheniqua Sands, a mother of two.
Fox Hill Member of Parliament Fred Mitchell promised those gathered that the authorities are committed to finding the four men responsible for the tragedy.
He said: "I thought it was important to try to draw the community together.  In unity there is strength.  We simply need to stand together.
"The police will find the perpetrators.  The responsible thing to do is to leave that in their hands. I am grateful to the Commissioner for the personal attention which he has paid to this. I have been in constant touch with the Minister of National Security and I thank him for his statements in support of the people here.
"The question for us is how do we turn disaster into opportunity. While we mourn, while the attention of the country is on us, we can mobilise the resources that have been denied us: to clean up our community, to rebuild our community."
He added that communities throughout the Bahamas should focus its attention on securing the well being of citizens.
"There is now a need definitively for the community, not just Fox Hill to have a paradigm shift in attitude and thinking about security issues. This is no longer the small village the world described as quaint little Nassau. 
"We have to adjust to the fact that in security issues we need new rules, a new attitude and a new way of looking and dealing with security issues. If we do not, we, as a society, will become sitting ducks of our own destruction."
Also in attendance were Rev Dr J Carl Rahming of St Pauls Baptist Church, Bishop Neil Ellis, Mount Tabor Church, Christian Council President Rev Ranford Patterson, New Covenant Baptist Church pastor emeritus Simeon Hall, Urban Renewal Co-chairs Cynthia "Mother" Pratt and Algernon Allen, Bahamas Against Crime Executive Director Rev C B Moss and Bahamas Harvest Church Pastor Mario Moxey among other members of the clergy.