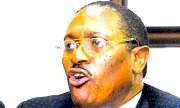 By RASHAD ROLLE
Tribune Staff Reporter
rrolle@tribunemedia.net
TWO foreign consultants hired to conduct a forensic audit of Nassau's "rusty water woes" at a cost of $50,000 have issued their report to government.
In announcing the findings, outgoing chairman of the Water and Sewage Corporation Bradley Roberts said earlier efforts to deal with the rusty water issues failed because of a loophole, which has been discovered by the new consultants – IanWatson of RosTek Associaties and Steven Duranceau Consulting Services, LLC.
According to Mr Roberts, a critical amendment was made to the Baillou Hills Plant expansion contract which allowed the contractor to reduce water quality requirements that were extremely significant, particularly to the question of how corrosive the water supply was.
Water corrosivity is a cause of rusty supply to households.
Mr Roberts said the report also highlights that the corporation's management was aware of the removal of this vital requirement "but the auditors could not confirm if they (management) were aware of the implications of moving it. However, there is nothing on record to show that any objections were lodged."
Explaining that the decision came before his time, Mr Roberts did not say when it was made or who was in charge of the corporation at the time.
In its key findings, the consultants' report notes that "prior to the introduction of desalinated seawater in 2006, ground water was barged from Andros and there is little doubt that the use of this water for many years caused a significant build-up of scale on the inside of the distribution piping."
The report says that the water was "mildly brackish, and contained considerable calcium hardness and bicarbonate alkalinity."
It adds that "since the commissioning of Baillou Hills 1 reverse osmosis plant, WSC has been plagued with red water complaints and the red water complaints that started with the startup of Baillou Hills RO are almost certainly the result of re-solution of the internal pipe deposits built up over time by the barged water."
The report also notes that when the expansion came on line in late 2011, coinciding with the end of barged water from the Arawak Key pump station, the number and severity of the complaints increased dramatically.
"At that time, the aggressive post treated desalinated water was being distributed in the old distribution system in Nassau, where it not only started re-dissolving the scale, but also corroded the exposed ferrous piping," it said.
The report also said that unless the water produced at Baillou Hills is properly stabilised, the red water issue will remain.
The consultants recommend that pipe replacement should continue where replacement occurs in those areas that have recurrent red water complaints and improved management of post-treatment operations is required.
They also recommend a "focus on improving and maintaining constant pH and on providing adequate alkalinity as the primary distribution system water quality objectives."